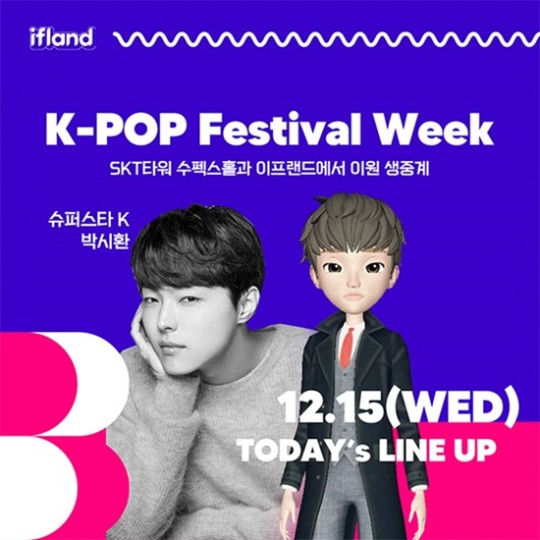 Kpop singer Sihwan Park will present a special live performance in the metaverse space. He will appear in 'K-pop Festival Week' of SK Telecom's metaverse platform service 'ifland,' which will be out at 6 pm on December 15.
'K-pop Festival Week' is a program where artists and fans communicate and enjoy content in a metaverse space. Sihwan Park, who confirmed his appearance, will give special memories through time to enjoy artwork with fans and live performances.
Notably, the performance will take place under the title of 'TV Program Winners.'
So, he will once again show off his potential as the runner-up of 'Superstar K 5' with the best performance. Also, he unveiled his avatar that he will introduce in the metaverse space. So, he is gaining enthusiastic responses from fans as his avatar has high synchronization with real life.
You can watch the 'K-pop Festival Week,' in which Sihwan Park participates, through 'ifland,' a metaverse service that can communicate with up to 131 people.
Kpop singer Sihwan Park's performance, which will take place at the metaverse space, will be unveiled at 6 pm on December 15 at 'ifland.'
Read More About: Summer Cake Released A Cover Video Of Heize's 'Don't Know You'
2021 kpop news
,
2021 kpop news updates
,
2021 news kpop
,
best kpop news site
,
breaking news kpop
,
daily kpop news
,
Korean celeb news
,
KPOP
,
Kpop artist
,
Kpop artists
,
kpop celebrity news
,
Kpop chart and news
,
kpop daily news
,
Kpop idols
,
Kpop latest news
,
Kpop news
,
Kpop news articles
,
Kpop news sites
,
kpop news update
,
Kpop recent news
,
Kpop trend
,
Kpop trending
,
KPop trending news
,
Kpop trending now
,
kpop trending update
,
KPOP2021
,
KPOPIDA
,
KPOPNEWS
,
recent kpop news
,
Trending
,
trending 2021
,
trending kpop
,
Trending Kpop news
,
trending kpop update
,
trending news
,
trending update kpop
,
trending updte