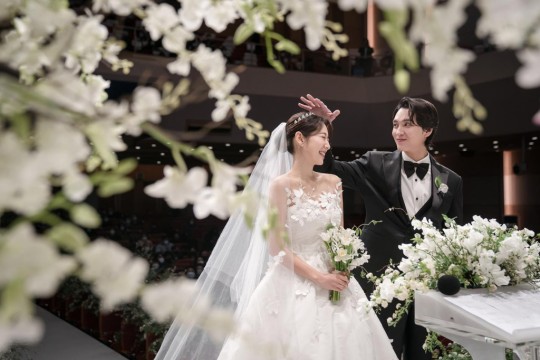 Actress Shinhye Park revealed behind-the-scenes cuts from her wedding with Taejoon Choi.
Shinhye Park posted a behind-the-scenes cut from her wedding with Taejoon Choi on Instagram on January 27.
In the published photo, Shinhye and Taejoon were getting married at a church in Seoul on January 22. Taejoon, the new groom in a tuxedo, was holding hands and leading the new bride, Shinhye, in a wedding dress, while putting his hand on her head and looking at her bride lovingly.
Shinhye Park's domestic and overseas fans left congratulatory comments such as "Congratulations and best wishes,' "cuties," and "congratsssss."
Meanwhile, Shinhye Park and Taejoon Choi developed a romantic relationship at the end of 2017. Then, after four years of relationship, they decided to tie the knot on January 22.
Read More About: Gaon Chart 4th Week Ranking Announced, BTS, Youngwoong Lim, MELOMANCE Minseok Kim, and SMTOWN Dominated The Charts
2021 kpop news
,
2022 kpop trending
,
2022 kpop updates
,
2022 latest news
,
best kpop news site
,
breaking news kpop
,
daily kpop news
,
Korean celeb news
,
KPOP
,
kpop 2022
,
KPOP 2022 NEWS
,
Kpop artist
,
Kpop artists
,
kpop celebrity news
,
Kpop chart and news
,
Kpop current news
,
kpop daily news
,
Kpop idols
,
Kpop latest news
,
Kpop news
,
Kpop news articles
,
Kpop news sites
,
kpop news update
,
Kpop recent news
,
Kpop trending
,
KPop trending news
,
Kpop trending now
,
KPOP2021
,
KPOPIDA
,
KPOPNEWS
,
trending kpop
,
Trending Kpop news
,
trending kpop update
,
trending news