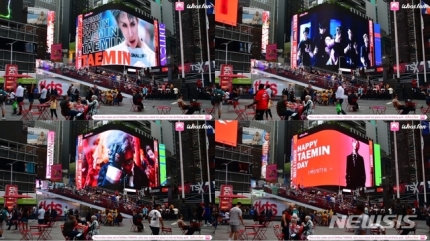 Group SHINee member Taemin appeared on a large billboard in Times Square, New York.
On July 16th, according to the global K-pop fandom platform 'Whosfan,' SHINee Taemin ranked first in the third week of voting in July for 'Who is the idol to celebrate his birthday at Times Square?' In response, Whosfan sent out a birthday ad on a large billboard in Times Square, New York.
SHINee Taemin will celebrate his birthday on July 18th. He took first place with an overwhelming turnout of 70.30% in the voting held from June 21st to June 28th. Seventeen's Wonwoo and SF9's Inseong took 2nd and 3rd places, respectively.
The advertisement is a building right next to 'tkts,' known as the heart of Times Square in New York. The ad runs on a 47-meter-long large electronic board for a week from July 12th to July 18, Taemin's birthday.
Whosfan has released a local video of the advertisement sent through YouTube's 'Whosfan TV' channel. The advertisement attracts attention as a video is directly produced by a global fan of SHINee's Taemin.
The advertisement video contains all the music video scenes from SHINee Taemin's solo debut song 'Phantom Thief' to his representative work 'Move' and the recently released 'Advice.'
Whosfan is holding global fans' voting every week for K-pop artists whose birthdays are right for a large billboard advertisement account in Times Square in New York.
Read More About: IU, Selected As Kakao Webtoon's New Model
2021 kpop
,
2021 kpop news
,
2021 kpop news updates
,
2021 kpop updates
,
2021 news kpop
,
2021 updates on kpop
,
KPOP
,
Kpop 2021
,
Kpop artist
,
Kpop artists
,
Kpop idols
,
Kpop news
,
Kpop trend
,
Kpop trending
,
KPop trending news
,
Kpop trending now
,
kpop trending update
,
KPOP2021
,
Kpopall
,
KPOPIDA
,
KPOPNEWS
,
SHINee
,
shinee kpop
,
shinee taemin
,
shinee_taemin
,
taemin
,
taemin birthday
,
taemin kpop
,
Taemin_Advice
,
Trending
,
trending 2021
,
trending kpop
,
Trending Kpop news
,
trending kpop update
,
trending news
,
trending update kpop