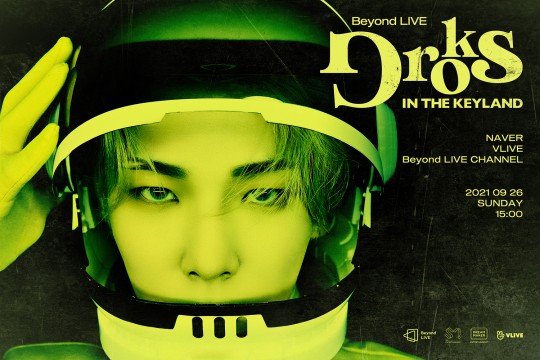 Kpop group SHINee member Key will host his solo concert through 'Beyond LIVE' today, September 26.
Beyond LIVE – KEY: GROKS IN THE KEYLAND will air live on NAVER V LIVE's Beyond LIVE channel starting at 3:00 pm today, with the explosive response from global audiences.
Kpop group SHINee member Key held this performance in February 2019. So, this is solo concert will take place after 2 years and 7 months since 'The Hideout' KEY LAND – KEY.'
So, it seems to catch the eyes of the fans with his performance again this time.
Particularly, he pre-released five songs from his first mini-album 'BAD LOVE,' which he will release on September 27. Also, he pre-released his solo songs such as 'One of Those Nights,' 'Forever Yours,' 'I Wanna Be,' and 'Hologram,' which is for his solo debut in Japan. In addition, he will present SHINee's 7th full-length album song, 'Body Rythm,' raising the expectation of fans.
In addition, SM Performance Director Sanghoon Hwang will be in charge of directing the performance. He will maximize the unique charm of Key. The specially-produced stage equipment, colorful effects, and vibrant camera movement will add to the enjoyment of viewing.
Read More About: TWICE Reveals Personal Teaser Images For Their First English Single 'The Feels'
2021 kpop news
,
2021 kpop news updates
,
2021 kpop updates
,
2021 news kpop
,
best kpop news site
,
daily kpop news
,
key_hate that
,
Korean celeb news
,
KPOP
,
Kpop 2021
,
Kpop artist
,
Kpop artists
,
kpop celebrity news
,
kpop daily news
,
Kpop fashion
,
Kpop idols
,
Kpop latest news
,
Kpop news
,
Kpop recent news
,
KPOP shinee
,
Kpop trend
,
Kpop trending
,
KPop trending news
,
Kpop trending now
,
Kpop_SHINee
,
KPOP2021
,
Kpopall
,
KPOPIDA
,
KPOPNEWS
,
Kpopnews 2021
,
Kpopnews2021
,
latest kpop news
,
recent kpop news
,
SHINee
,
shinee comeback
,
SHINEE KEY
,
shinee kpop
,
Shinee Minho
,
shinee news
,
shinee taemin
,
SHINee Vlive
,
SHINee_Comeback
,
shinee_key
,
SHINee_Onew
,
shinee_taemin
,
trending kpop
,
Trending Kpop news
,
trending kpop update
,
trending news
,
trending update kpop