Simon Dominic, the main character in the fourth episode of "It's Nice To Meet You,' appeared on MBC's 'I Live Alone.' The show also featured SHINee member Key.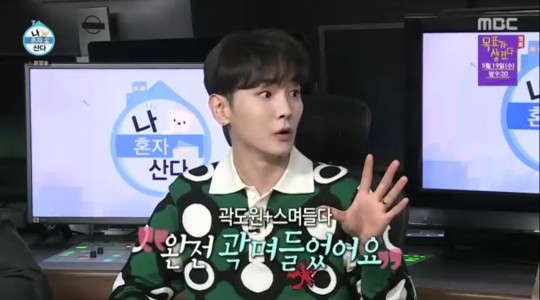 The 395th episode of MBC's entertainment program, "I Live Alone," aired on May 7th (Friday). It broadcasts Simon Dominic's 'My Feelings Are Exciting' and Dowon Kwak's 'Jeju Life.'
Narae Park mentioned that SHINee member Key is popular as the 'Man Growing Onions.' In the last broadcast, the scene of Key growing onions appeared on the news. When Narae Park asked, "What's up with the green onions?" SHINee member Key expressed his pride, saying, "It's like aloe." He then compared Dowon Kwak's episode of living in Jeju last week. SHINee member Key said, "My garden was nothing." Also, Key attracted attention by confessing his admiration for Dowon Kwak.

Narae Park then introduced Simon Dominic, the main character of the fourth episode of "It's Nice To Meet You," saying "I'm going to wrap it up" to Dowon Kwak last week. Simon Dominic appeared in the studio in a flashy costume. They are all surprised, saying, "It's dazzling." Simon Dominic approached Kian84 after a long time and hugged him.

Simon Dominic said that he appeared on "I Live Alone" after two and a half years. Narae Park said, "We haven't seen it before, and Kian84 said, "This is not a year-end award ceremony. Close your buttons," while laughing.

Viewers said through various SNS and websites, "Dowon Kwak's charm,"
"Patech lol"
"It's nice to see Simon Dominic after a long time."
"My nephew is really cute too."
Viewers are showing enthusiastic reactions.

MBC's "I Live Alone" delivers laughter and emotion with a realistic single life to the viewers. It airs every Friday night at 11:05 p.m.
Read More About: Minho Song Shared His Thoughts About His Sister And Seungyoon Kang
DOWON KWAK
,
I Live Alone
,
KPOP
,
Kpop artist
,
Kpop news
,
Kpop trending
,
KPop trending news
,
Kpop trending now
,
kpop trending update
,
KPOP2021
,
Kpopall
,
KPOPIDA
,
KPOPNEWS
,
kwak dowon
,
SHINee
,
SHINEE KEY
,
shinee kpop
,
shinee_key
,
simon dominic
,
Trending
,
trending 2021
,
trending kpop
,
Trending Kpop news
,
trending kpop update
,
trending news
,
trending update kpop