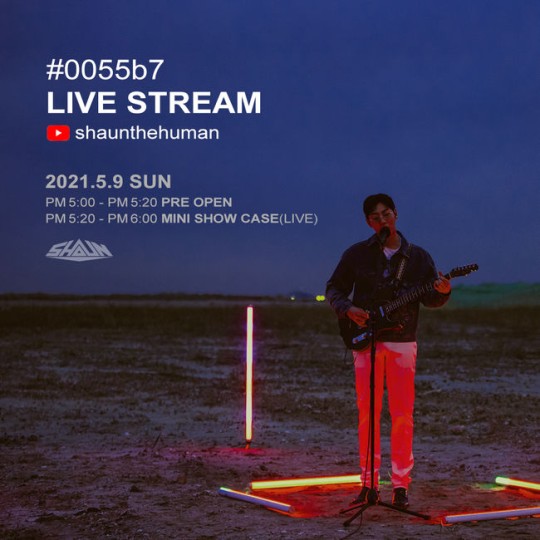 Singer-songwriter Shaun will be releasing his first new album today (May 9) after being discharged from the military in November 2020.
Shaun will release a new digital single '#0055b7' through various online music sites at 6 pm on May 9th.
'#0055b7' attracts attention as Shaun releases this new album after about 1 year and 9 months. This is after his EP (Extended Play) album '36.5' released in August 2019. Also, this is the first album, which Shaun releases after completing his military service.
In fact, this single, which expresses different situations, but with similar colors of emotions, includes two tracks. It is the double title song 'BLUE (Feat. Wonstein)' and 'Closed Ending,' which produced by Shaun himself.
'BLUE' is a song that melts Shaun's cold but sweet voice into electronic guitar and hip-hop beats. This song expresses the emptiness and lingering feelings that anyone who has felt love would have experienced. Also, it has sensuous lyrics, with the participation of Wonstein from Mnet's 'Show Me the Money 9' and MBC's 'Hang Out With Yoo.'
'Closed Ending' is a song that naturally presents the melody of 'Way Back Home.' So, the listeners will surely be mesmerized by its repetitive melody and guitar chords. Shaun's sensuous melody and lyrics are like expressing two lovers who are about to break up.
Although, the songs depict different situations, 'BLUE' and 'Closed ending' give off the same emotion. It is really a gift for fans who have been waiting for Shaun.
Shaun's new digital single '#0055b7' double title track 'BLUE' and 'Closed Ending' will be available from 6 pm on May 9th.
Before the release, Shaun will hold an online mini-performance. This is to commemorate his comeback through his official YouTube channel from 5 pm on the same day. He will reveal the live performance of his new song to the fans for the first time.
Read More About: IU Won First Place In 'Show! Music Core'
2021 kpop news
,
2021 kpop updates
,
KPOP
,
Kpop 2021
,
Kpop artist
,
Kpop artists
,
Kpop idols
,
Kpop news
,
Kpop trend
,
Kpop trending
,
KPop trending news
,
Kpop trending now
,
kpop trending update
,
KPOP2021
,
Kpopall
,
KPOPIDA
,
KPOPNEWS
,
shaun
,
shaun blue
,
shaun closed ending
,
shaun comeback
,
shaun new single
,
Trending
,
trending 2021
,
trending kpop
,
Trending Kpop news
,
trending kpop update
,
trending news
,
trending update kpop