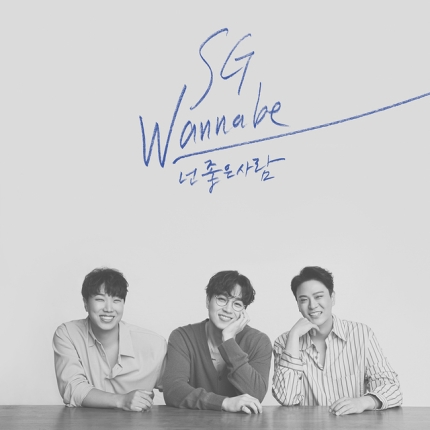 Group SG Wannabe is making a comeback with a new song after 3 years of hiatus. Expectations are higher than ever for SG Wannabe's new song, which shook the music charts in the first half of the year as their past songs are becoming popular among music fans.
SG Wannabe (Yongjun Kim, Jinho Kim, Seokhoon Lee) will release a new single 'You're The Best Of Me' at 6 pm on July 16th.
'You're The Best Of Me' is a medium-tempo song with an SG Wannabe-like but unusual melody composition. Composer Youngsoo Cho, who created SG Wannabe's famous songs such as 'Partner for Life,' ' 'Lalala,' and 'Arirang,' participated in the songwriting. Also, Jinho Kim participated in the lyrics writing, adding to the anticipation.
The reason SG Wannabe's new song is getting a lot of attention is not only because it's a new song released in three years. But, it's their first comeback after their reverse popularity on music charts, causing a great trend.
They appeared on MBC's 'Hangout With Yoo,' which aired on April 17th. They sang in full harmony for the first time in a long time. SG Wannabe met Jaesuk Yoo, who is behind the MSG Wannabe project. They both gave laughter with their unchanging charm, teamwork, and sense of entertainment. This means that SG Wannabe led the successful start of the MGS Wannabe project.
Above all, they showed off their hit songs with their unchanging voice, harmony, and excellent singing ability. As such, they received a great response. From Yongjun Kim's sweet voice, Jinho Kim's thrilling high notes to Seokhoon Lee's soft mid-bass, the vocals of different charms and personalities are in harmony to complete SG Wannabe.
Music fans were enthusiastic about the feast of timeless masterpieces they can hear anytime. Naturally, SG Wannabe's songs such as 'Timeless', 'Lalala', 'As I Live,' 'Crime and Punishment, 'Arirang', and 'Partner For Life' ran backward on various music charts, all-killing, and sweeping the top spots. Even after many years, the famous song proved once again that it works.
SG Wannabe showed a careful look while expressing gratitude to the fans amidst this storm. In their new journey, they modestly said, "I think it's luck."
They calmly prepared for the next move rather than being excited.
The new song 'You're The Best Of Me' was born, which they will release on July 16th. The song expresses gratitude to all who have made memories with their lovers, friends, family, with SG Wannabe's music style.
Prior to the release of the new song, Jinho Kim said, "I yearn for a person who will listen to the songs he used to listen to in his parent's car, a person who searches for a role in his youth, lives, and an adult who thinks it's old age and wisdom. I go back to that day while listening to the songs I used to listen to when I was young."
He expressed his gratitude to the fans, saying, "Your heart has raised me to be a person who knows love more than musicians, artists, or celebrities. Let share love together." The new song contains such feelings.
SG Wannabe will appear on 'Hangout With Yoo' on July 17th. They will perform the new song for the first time in the 100th special concert. So, fans are looking forward to the synergy that 'Hangout With Yoo' and SG Wannabe will give this time.
Read More About: COVID-19 Affects Various K-Pop Artists Performances
2021 kpop news
,
2021 kpop updates
,
hangout with yoo
,
KPOP
,
Kpop 2021
,
Kpop artist
,
Kpop artists
,
Kpop idols
,
Kpop news
,
kpop sg wannabe
,
Kpop trend
,
Kpop trending
,
KPop trending news
,
Kpop trending now
,
kpop trending update
,
KPOP2021
,
Kpopall
,
KPOPIDA
,
KPOPNEWS
,
sg wannabe
,
SG WANNBE KPOP
,
Trending
,
trending 2021
,
trending kpop
,
Trending Kpop news
,
trending kpop update
,
trending news
,
trending update kpop