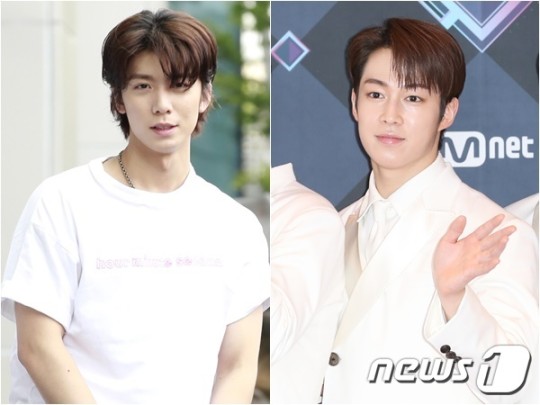 Kpop group SF9 members Dawon and Hwiyoung tested positive for COVID-19. FNC Entertainment announced through SF9's fans community on October 14 that Dawon and Hwiyoung tested positive as a result f their PCR test.
Earlier, on October 13, FNC Entertainment learned that a staff member who visited the office building tested positive for COVID-19. So, they ordered the artists and staff who came in contact with the staff member who tested positive to undergo PCR testing.
"Chanhee and the other SF9 members received preemptive PCR tests. All other members besides Dawon and Hwiyoung tested negative for COVID-19. Currently, Dawon and Hwiyoung are under isolation and taking necessary measures as instructed by disease control authorities," the agency said.
"The other SF9 members are waiting for results on whether they are categorized as having come into close contact with the confirmed cases. If it is determined that self-quarantine is required, they will follow self-quarantine guidelines while receiving adequate rest."
Finally, "We will comply with the requests and guidelines of disease control authorities. The health and safety of our artists will be our top priority. Also, we apologize for causing concern to many people. We will do our very best for the quick recovery of our artists."
Meanwhile, all the members of the Kpop band N.Flying, which is also under FNC Entertainment, tested negative for COVID-19.
Read More About: T1419, Invited To South America's 'Monitor Music Awards'
2021 kpop news
,
2021 kpop news updates
,
2021 news kpop
,
best kpop news site
,
chanhee sf9
,
daily kpop news
,
Korean celeb news
,
KPOP
,
Kpop artist
,
Kpop artists
,
kpop celebrity news
,
kpop daily news
,
KPOP GROUP SF9
,
Kpop latest news
,
Kpop news
,
Kpop recent news
,
kpop sf9
,
Kpop trending
,
KPop trending news
,
KPOP2021
,
KPOPIDA
,
KPOPNEWS
,
Kpopnews 2021
,
Kpopnews2021
,
latest kpop news
,
recent kpop news
,
sf9
,
sf9 kpop
,
SF9 members
,
sf9 news
,
SF9 photo essay
,
SF9_Chanhee
,
SF9_Dawon
,
sf9_hwiyoung
,
SF9_Inseong
,
SF9_Jaeyoon
,
SF9_Kpop
,
sf9_rowoon
,
SF9_Taeyang
,
sf9_turn over
,
SF9_Youngbin
,
SF9_Zuho
,
Trending Kpop news
,
trending news