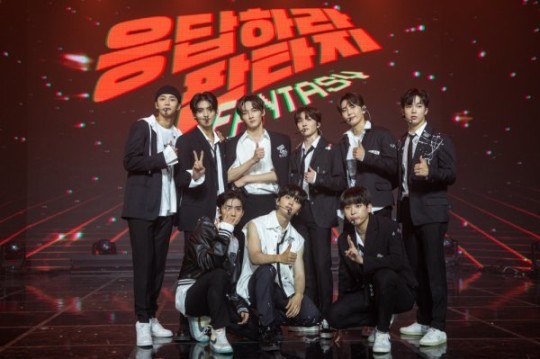 Kpop group SF9 members (Youngbin, Inseong, Jaeyoon, Dawon, Rowoon, Zuho, Taeyang Yoo, Hwiyoung, Chanhee) successfully finished their online fan meeting, 'Reply Fantasy.'
SF9 held an online fan meeting, 'Reply Fantasy,' through the online performance transmission platform KAVECON, from 6 pm on August 15th. At this fan meeting, conducted through live streaming, SF9 appeared in retro outfits with a boarding house set in the background. In fact, the members bring laughter from the start. Then, they had a talk time that caused laughter among online viewers through the 'SF9 University Boarding House' corner.'
They continued the pleasant atmosphere by running the relay game 'God of Part-Time Job Recruitment' prepared for the fan meeting.
Particularly, at the fan meeting that day, the members showed various solo performances that they haven't shown before. SF9's hidden voice powerhouse, Dawon, chose UI's 'Eight' and brightened up the fan meeting with his emotion. Next, SF9 dancer, Taeyang Yoo showed his emotional vocal skills by covering singer Yoon Sang's 'Boy.'
The youngest members, Hwiyoung and Chanhee, performed a duet song titled 'Yesterday.'
Then, leader Youngbin showed a hip performance to Kendrick Lamar's 'Humble,' gathering enthusiastic responses from fans. SF9 Member Zuho, who participated in writing and composing SF9's music, released a new self-composed song called 'Bang Bang' and heated up the atmosphere of the fan meeting.
On this day, SF9 presented bright and exciting performances that they do not usually show on music programs. So, the fan meeting brings a different kind of pleasure to fans. They opened the fan meeting with 'Together,' included in their debut single. So, it adds a warm welcome to fans who are watching. SF9 radiated healthy energy with lively colored tracks such as 'Let's Hang Out,' 'Mamma Mia, ' and 'Hey Hi Bye.'
Also, SF9 performed their new song 'Tear Drop' and their popular song, 'Now Or Never,' as a group with a sensual, sexy concept. So, it satisfies the expectations of their fans' FANTASY 100%.
Kpop group SF9 released their 9th mini-album 'TURN OVER' in early July and actively promoting it. This album, which captures the will of SF9 to pioneer itself without giving in to fate, has achieved good results. They set an initial sales record twice as high as the previous one. In addition, they ranked in the top 3 on iTunes K-POP album charts in 10 regions worldwide.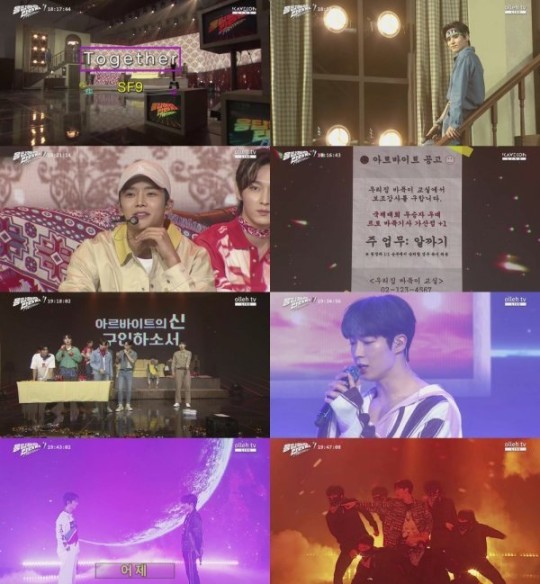 Then, after successfully completing the online fan meeting, SF9 plans to continue its active individual activities in variety shows, dramas, movies, and musicals.
Read More About: THE BOYZ, New Album Sold 520,000 Copies In The 1st Week
KPOP
,
Kpop artist
,
Kpop artists
,
KPOP GROUP SF9
,
Kpop idols
,
Kpop news
,
kpop sf9
,
Kpop trend
,
Kpop trending
,
KPop trending news
,
Kpop trending now
,
kpop trending update
,
KPOP2021
,
Kpopall
,
KPOPIDA
,
KPOPNEWS
,
sf9
,
sf9 kpop
,
SF9 members
,
sf9 news
,
SF9_Chanhee
,
SF9_Dawon
,
sf9_hwiyoung
,
SF9_Inseong
,
SF9_Jaeyoon
,
SF9_Kpop
,
sf9_rowoon
,
SF9_Taeyang
,
sf9_turn over
,
SF9_Youngbin
,
SF9_Zuho
,
Trending
,
trending 2021
,
trending kpop
,
Trending Kpop news
,
trending kpop update
,
trending news
,
trending update kpop