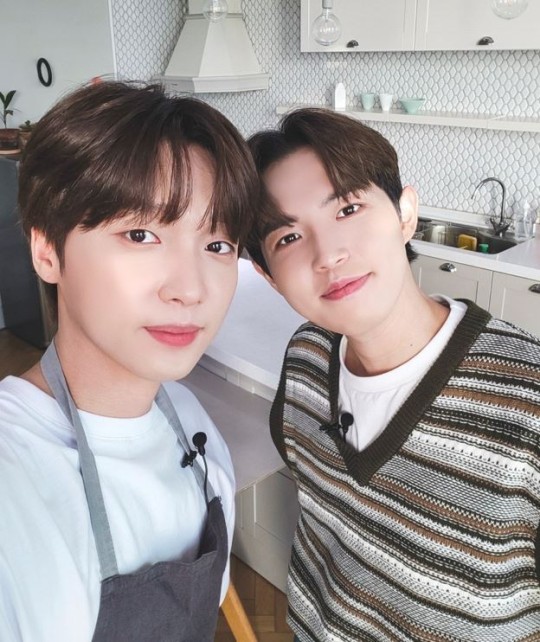 'Singer-songwriter idol' Sewoon Jeong foreshadowed the best-in-class vibe with Jaehwan Kim.
The ninth episode of 'Would You Eat the Food that I Cooked' will be out on Sewoon Jeong's official YouTube and Naver V LIVE channel at 7:00 pm on September 29.
On this day, Jaehwan Kim, who has been close with Sewoon Jeong since his debut, will appear in 'Would You Eat the Food that I Cooked.'
The two are celebrity best friends and plan to show off a chemistry that makes viewers smile.
In addition, fans are increasingly curious about what menu Sewoon Jeong, who is showing his high-quality cooking and 'sexy cooking man,' aspect have prepared for Jaehwan.
Sewoon Jeong and Jaehwan Kim, who are responsible for the listeners, have boasted close chemistry by joining various programs. It includes Wavve Original web entertainment 'Boys Mental Training Camp,' KBS2 entertainment program 'World Cyber Games,' and KT Seezn 'Sing Stay 3.'
Jaehwan Kim's appearance adds expectations to 'Would You Eat the Food that I Cooked,' a self-produced content that invites people with a grateful heart to cook, treat, and talk.
Read More About: 'Street Woman Fighter' Dancers, "Don't You Have Pride As A Dancer?"
best Kpop girl group
,
best kpop news site
,
best kpopstar
,
breaking news kpop
,
daily kpop news
,
Fandom
,
Jaehyun Ryu
,
Korean celeb news
,
Korean singer
,
Korean singer songwriter
,
KPOP
,
Kpop album
,
Kpop beauty routine
,
Kpop boy group
,
kpop celebrity news
,
Kpop chart and news
,
Kpop colllaboration
,
KPOP comeback
,
Kpop current news
,
kpop daily news
,
Kpop duo VIBE
,
Kpop fashion
,
Kpop girls group
,
Kpop idols
,
Kpop issues
,
Kpop latest news
,
Kpop music chart
,
Kpop news
,
Kpop news articles
,
Kpop news sites
,
kpop news update
,
Kpop recent news
,
Kpop skin care routine
,
Kpop skincare routine
,
KPop trending news
,
KPOP VIBE
,
KPOPNEWS
,
male duo VIBE
,
Minsoo Yoon
,
revibe project
,
South Korean singer songwriter
,
the best kpop girl group
,
the best kpop girl group of 2021
,
the best kpop group of 2021
,
the top kpop group
,
top kpop boy group
,
top kpop girl group
,
VIBE
,
VIBE members
,
VIBE news