Kpop singer Sewoon Jeong released a cover gift for 'Haengwoon (fan club, meaning 'LUCK') on Christmas Day. On the afternoon of December 25, Sewoon released his cover video of 'The Christmas Song' through his official YouTube and Naver V LIVE channels.
In the released video, Sewoon Jeong captures the listeners by making full use of the jazz atmosphere of the original song. He reveals his stunning charm visuals by matching a sweater and tie that is perfect for Christmas.
Particularly, Sewoon Jeong's voice singing 'The Christmas Song' boasts the sweetness. Also, playing the guitar himself also multiplies the charm of the song.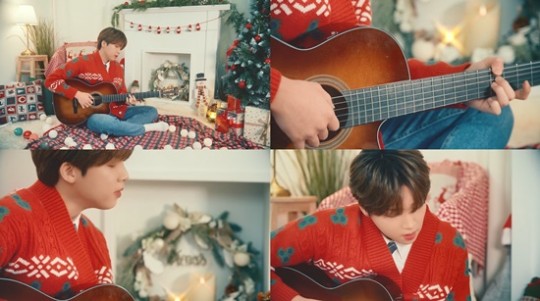 The video 'The Christmas Song' is a Christmas gift for fans. Also, it is part of the cover project 'FOREST,' which means wanting to give rest through music. Through this content, Sewoon perfectly transforms into a special Santa and delivers healing.
Currently, Sewoon Jeong has been selected as a special DJ for 'Idol Radio Season 2' with MBC Radio and the global fandom platform UNIVERSE. He plays an active role with a sense of progress by meeting global Kpop fans every Monday and Thursday.
In addition, Kpop singer Sewoon Jeong plans to continue communicating with fans through various content. It includes his regular appearance on SBS Power FM's 'Kim Youngchul's Power FM.'
Read More About: Youngwoong Lim Unveils Behind-The-Scenes From His Solo Show + Michael Jackson Transformation
best Kpop girl group
,
best kpop news site
,
best kpopstar
,
BF
,
BF Kpop
,
bf members
,
BOYFRIEND
,
BOYFRIEND boy group
,
BOYFRIEND members
,
breaking news kpop
,
daily kpop news
,
Fandom
,
Hip-hop Idol JIN
,
Jin
,
JIN news
,
Korean celeb news
,
Korean singer
,
Korean singer songwriter
,
KPOP
,
Kpop album
,
Kpop beauty routine
,
Kpop boy group
,
Kpop BOYFRIEND
,
kpop celebrity news
,
Kpop chart and news
,
Kpop colllaboration
,
KPOP comeback
,
Kpop current news
,
kpop daily news
,
Kpop fashion
,
Kpop girls group
,
kpop idol JIN
,
Kpop idols
,
Kpop issues
,
Kpop latest news
,
Kpop music chart
,
Kpop news
,
Kpop news articles
,
Kpop news sites
,
kpop news update
,
Kpop recent news
,
Kpop skin care routine
,
Kpop skincare routine
,
KPop trending news
,
KPOPNEWS
,
Singer JIN
,
South Korean singer songwriter
,
the best kpop girl group
,
the best kpop girl group of 2021
,
the best kpop group of 2021
,
the top kpop group
,
top kpop boy group
,
top kpop girl group