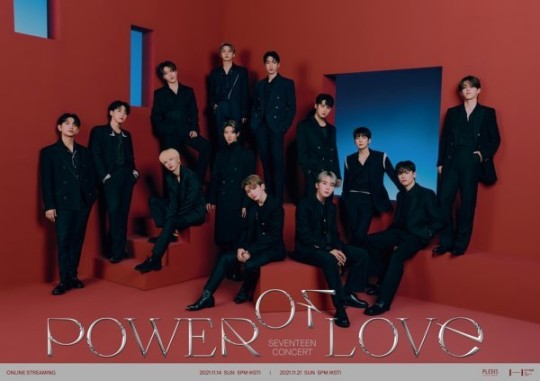 Kpop group SEVENTEEN (S.Coups, Jeonghan, Joshua, Jun, Hoshi, Wonwoo, Woozi, DK, Mingyu, The8, Seungkwan, Vernon, and Dino) will meet fans through an online concert in November.
On October 26, Pledis Entertainment released the poster of 'SEVENTEEN CONCERT-POWER OF LOVE,' which they will broadcast live online from 5 pm on November 14 and 21, on SEVENTEEN's official social media.
SEVENTEEN's concert 'POWER OF LOVE' will take place for the first time in 10 months. So, it will surely be a performance that encompasses all their albums under the 2021 'Power of 'Love'" project. So, they came up with 'POWER OF LOVE' as the concert's title with the theme of 'love.'
In fact, SEVENTEEN talks about various moments of love that we can encounter in life in the 2021 'Power of Love' project. It fills 2021 with honest and colorful feelings of love, which will combine various forms of love that SEVENTEEN delivers through this concert.
Mainly, the 'POWER OF LOVE' concert, which will be broadcast live for two weeks on November 14 and 21, consists of themes of 'POWER' and 'LOVE,' respectively. So, it heralds a variety of attractions with a rich setlist and stage production. There will be one main screen and three concept screens consisting of a total of four multi-view screens. So, it allows you to enjoy the spectacular performance of the 'Kpop Performance Representative' more vividly.
'SEVENTEEN CONCERT-POWER OF LOVE' has been receiving enthusiastic responses after the release of the poster. Fans can purchase the concert ticket starting at 12 pm on October 29 through Weverse Shop.
Recently, Kpop group SEVENTEEN released their 9th mini-album 'Attacca' on October 22. So, they are actively working with the title song 'Rock with You.'
Read More About: ONEUS Seoho & Hwanwoong, Personal Teaser Image Released!
best Kpop girl group
,
best kpop news site
,
best kpopstar
,
breaking news kpop
,
daily kpop news
,
DK
,
Fandom
,
Hoshi
,
Korean celeb news
,
Korean singer
,
Korean singer songwriter
,
KPOP
,
Kpop album
,
Kpop beauty routine
,
Kpop boy group
,
kpop celebrity news
,
Kpop chart and news
,
Kpop colllaboration
,
KPOP comeback
,
Kpop current news
,
kpop daily news
,
Kpop fashion
,
Kpop girls group
,
kpop group SEVENTEEN
,
Kpop idols
,
Kpop issues
,
Kpop latest news
,
Kpop music chart
,
Kpop news
,
Kpop news articles
,
Kpop news sites
,
kpop news update
,
Kpop recent news
,
kpop seventeen
,
Kpop skin care routine
,
Kpop skincare routine
,
KPop trending news
,
KPOPNEWS
,
ready to love
,
Seungkwan
,
Seventeen
,
SEVENTEEN members
,
South Korean singer songwriter
,
the best kpop girl group
,
the best kpop girl group of 2021
,
the best kpop group of 2021
,
the top kpop group
,
top kpop boy group
,
top kpop girl group
,
Vernon
,
Wonwoo
,
Woozi