Kpop group SEVENTEEN (S.Coups, Jeonghan, Joshua, Jun, Hoshi, Wonwoo, Woozi, DK, Mingyu, The8, Seungkwan, Vernon, and Dino) has released their 9th mini-album 'Attacca' official photos for the first time.
PLEDIS Entertainment released the first official photo of 'Attacca,' which SEVENTEEN will release on October 22, through SEVENTEEN's official social media channel at midnight on October 5. So, it is attracting the attention of fans around the world.
In the published official photo Op.1, SEVENTEEN took a sensual pose in a free and comfortable atmosphere. They are showing off their mature beauty with deep eyes, which captivates fans' hearts.
Mainly, SEVENTEEN is emitting the heat of love with a deeper atmosphere. They gave off a seductive aura as they further expanded the way they show love through their 9th mini-album, 'Attacca.'
The name of the 9th mini-album, 'Attacca,' is a term, which means to 'continue to play without interruption.'
When the next movement continues from the end of one movement, the official photo name also uses 'Op,' a term used in music. So, it adds to fans' curiosity about SEVENTEEN's appearance on their 9th mini-album.
SEVENTEEN will make a comeback with its 9th mini-album 'Attaca' on October 22. As of now, they surpassed 1.41 million pre-orders in Korea and abroad in just one day since the pre-sale started. So, it signals another million-seller record and career-high. In addition, many foreign media, including US Billboard, highlighted SEVENTEEN as a 'global Kpop powerhouse.'
Meanwhile, Kpop group SEVENTEEN has completed the release of the official photo Op.1 containing the 13 styles of the 13 members. Then, they will release the official photo Op.2 of the 9th mini-album 'Attacca' from October 7 to 9.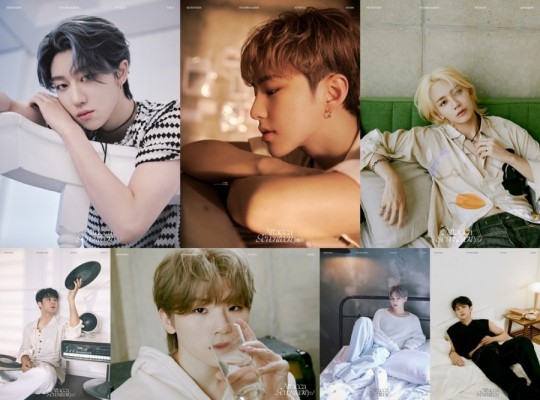 Read More About: P1Harmony, KPop Representative At The 'Korea Day' Event In The US
best Kpop girl group
,
best kpop news site
,
best kpopstar
,
breaking news kpop
,
daily kpop news
,
DK
,
Fandom
,
Hoshi
,
Korean celeb news
,
Korean singer
,
Korean singer songwriter
,
KPOP
,
Kpop album
,
Kpop beauty routine
,
Kpop boy group
,
kpop celebrity news
,
Kpop chart and news
,
Kpop colllaboration
,
KPOP comeback
,
Kpop current news
,
kpop daily news
,
Kpop fashion
,
Kpop girls group
,
kpop group SEVENTEEN
,
Kpop idols
,
Kpop issues
,
Kpop latest news
,
Kpop music chart
,
Kpop news
,
Kpop news articles
,
Kpop news sites
,
kpop news update
,
Kpop recent news
,
kpop seventeen
,
Kpop skin care routine
,
Kpop skincare routine
,
KPop trending news
,
KPOPNEWS
,
ready to love
,
Seungkwan
,
Seventeen
,
seventeen comeback
,
seventeen kpop
,
seventeen kpop updates
,
SEVENTEEN members
,
seventeen news
,
seventeen online fan meeting
,
seventeen Your Choice
,
Seventeen_Carat
,
seventeen_ready to love
,
seventeen_s.coups
,
seventeen_Your Choice
,
South Korean singer songwriter
,
the best kpop girl group
,
the best kpop girl group of 2021
,
the best kpop group of 2021
,
the top kpop group
,
top kpop boy group
,
top kpop girl group
,
Vernon
,
Wonwoo
,
Woozi