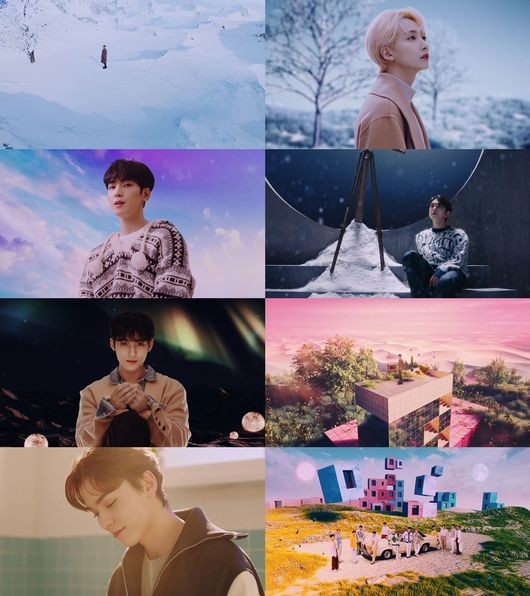 The Kpop group SEVENTEEN (S.Coups, Jeonghan, Joshua, Jun, Hoshi, Wonwoo, Woozi, DK, Mingyu, The8, Seungkwan, Vernon, and Dino) released a teaser video for their Japanese new single 'Ainochikara (Power Of Love).'
On the afternoon of November 25, SEVENTEEN shared warmth by releasing a teaser video of the special Japanese single 'Ainochikara' music video that finalizes the 2021 'Power of 'Love' project on its official YouTube channel.
At the beginning of the released music video teaser, a pure white snowfield opened up. So, it further caught the attention of fans. Then, Wonwoo's narration, "It's our story," added to the curiosity. The 30-second video, filled with the members' unique visuals and atmosphere, leaves a strong impression.
In fact, the Japanese special single 'Ainochikara' contains a message of support and comfort. It conveys 'a warm spring will come if we have the power of love even in cold and difficult situations like winter.'
Also, it is SEVENTEEN's first winter song and their first ballad song set for release in Japan.
'Ainochikara' is a work that marks the end of the 2021 Power of Love project. This project talked about various moments of love that we can encounter in life. Also, it sings about the love SEVENTEEN sends to CARAT (fan club), who always supports the group.
In addition, the single includes the title song 'Home' of the sixth mini-album, 'YOU MADE MY DAWN,' released in January 2019, and 'Snap Shoot,' a track from the third full-length album 'An Ode,' released in September 2019. They translated these songs into Japanese lyrics.
Particularly, Kpop group SEVENTEEN pre-released the 'Ainochikara' performance through the Japan edition of 'SEVENTEEN CONCERT <POWER OF LOVE>.'
The concert aired live online on November 18, attracting the keen attention of global fans even further. So, the members are raising interest in the official release of their special single on December 8 in Japan.
Read More About: Hyomin, 'Marie Claire' Pictorial Photos Released!
best Kpop girl group
,
best kpop news site
,
best kpopstar
,
breaking news kpop
,
daily kpop news
,
Dawn
,
DK
,
E-Dawn
,
Fandom
,
Hoshi
,
Hyojong Kim
,
Korean celeb news
,
Korean singer
,
Korean singer songwriter
,
KPOP
,
Kpop album
,
Kpop beauty routine
,
Kpop boy group
,
kpop celebrity news
,
Kpop chart and news
,
Kpop colllaboration
,
KPOP comeback
,
Kpop current news
,
kpop daily news
,
Kpop Dawn
,
Kpop fashion
,
Kpop girls group
,
kpop group SEVENTEEN
,
Kpop idols
,
Kpop issues
,
Kpop latest news
,
Kpop music chart
,
Kpop news
,
Kpop news articles
,
Kpop news sites
,
kpop news update
,
Kpop rapper Dawn
,
Kpop recent news
,
kpop seventeen
,
Kpop skin care routine
,
Kpop skincare routine
,
KPop trending news
,
KPOPNEWS
,
rapper Dawn
,
ready to love
,
Seungkwan
,
Seventeen
,
SEVENTEEN members
,
singer dawn
,
South Korean singer songwriter
,
the best kpop girl group
,
the best kpop girl group of 2021
,
the best kpop group of 2021
,
the top kpop group
,
top kpop boy group
,
top kpop girl group
,
Vernon
,
Wonwoo
,
Woozi