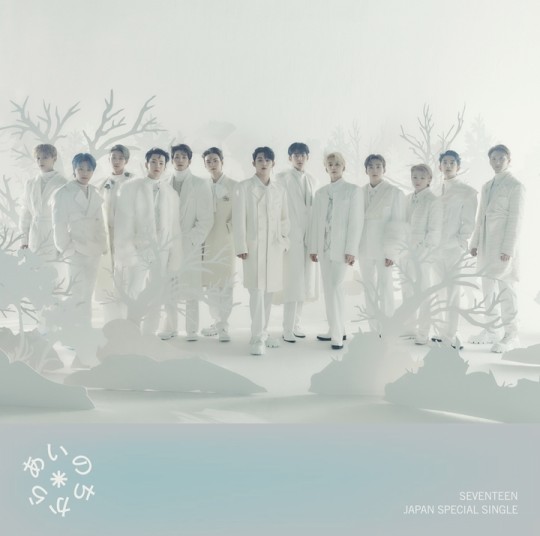 Kpop group SEVENTEEN is sweeping the top of the Oricon chart with the Japanese special single 'Ainochikara (Power Of Love).'
According to the latest chart released by Oricon on December 14, SEVENTEEN's 'Ainochikara' topped the Oricon Weekly Singles Ranking.
As a result, Kpop group SEVENTEEN ranked first in the Oricon weekly singles ranking with three consecutive albums.
Previously, SEVENTEEN took first place on April 13, last year, with their second Japanese single 'Fallin' Flower (Maiochiruhanabira),' released on March 30 last year. The third Japanese single, 'Not Alone (Hitorijanai),' released on April 21 this year, topped the charts on May 3.
Leader S.Coups said, "We sincerely thank Carat (fan club) for their unending support. So, we promise to become a more advanced SEVENTEEN in 2022 so that we can repay the 'power of love' that you sent us with a good performance. Be healthy, and I hope you have a happy end of the year."
In fact, the Japanese special single 'Ainochikara' marks the end of the 2021 'Power of 'Love' project.' It talked about various moments of love that we can encounter in life. This is SEVENTEEN's first winter song and their first Japanese original ballad song. 'Aino Chikara' includes three songs such as 'Home (Japanese ver.)' and 'Snap Shoot (Japanese ver.).'
'Ainochikara' contains the love that SEVENTEEN sends to CARAT (fan club), who always supports and comforts that warm spring will come if all of us have the 'power of love' even in cold and difficult situations like winter.
Read More About: GOT7 BamBam Confirmed To Release New Song On December 28
best Kpop girl group
,
best kpop news site
,
best kpopstar
,
breaking news kpop
,
daily kpop news
,
DK
,
Fandom
,
Hoshi
,
Korean celeb news
,
Korean singer
,
Korean singer songwriter
,
KPOP
,
Kpop album
,
Kpop beauty routine
,
Kpop boy group
,
kpop celebrity news
,
Kpop chart and news
,
Kpop colllaboration
,
KPOP comeback
,
Kpop current news
,
kpop daily news
,
Kpop fashion
,
Kpop girls group
,
kpop group SEVENTEEN
,
Kpop idols
,
Kpop issues
,
Kpop latest news
,
Kpop music chart
,
Kpop news
,
Kpop news articles
,
Kpop news sites
,
kpop news update
,
Kpop recent news
,
kpop seventeen
,
Kpop skin care routine
,
Kpop skincare routine
,
KPop trending news
,
KPOPNEWS
,
ready to love
,
Seungkwan
,
Seventeen
,
SEVENTEEN members
,
South Korean singer songwriter
,
the best kpop girl group
,
the best kpop girl group of 2021
,
the best kpop group of 2021
,
the top kpop group
,
top kpop boy group
,
top kpop girl group
,
Vernon
,
Wonwoo
,
Woozi