Kpop group SEVENTEEN member Seungkwan adorned the 1st Look magazine's exclusive cover.
On January 28, the 1st Look magazine released a beauty photoshoot with SEVENTEEN member Seungkwan, who is attracting attention as the 'management icon,' and captured the chic and lovely charm of Seungkwan.
In the published photo, Seungkwan perfectly digests an all-black suit. Also, he exudes an extraordinary aura with a chic look and eyes, drawing admiration from fans. In addition, he freely intersected various concepts, exuded a variety of charms, and focused attention by perfectly digesting the concept with a unique atmosphere.
Seungkwan, famous for his thorough self-care, attracted attention by boasting kissable lips and flawless skin.
In subsequent interviews, Seungkwan cited the management method he was missing these days, saying, "Walking 15,000 steps a day. I'm going to walk for 30 minutes ahead of an important schedule. Because the body burns fat quickly by using the muscles of the thighs and buttocks, I do a lot of squats at home."
Seungkwan continued, "This year, my goal is to upload a lot of song videos and work on a lot of songs. I have a strong image as an entertainment idol. But, I want to tell you that I sing well. I fell into the sentence 'Just Do' these days. So, I'm telling you to just do it without worrying, so I'm going to do anything this year."
You can find Seungkwan's photoshoot and interview with the premium beauty brand 'Clé de Peau Beauté' in the magazine '1st Look' No. 232.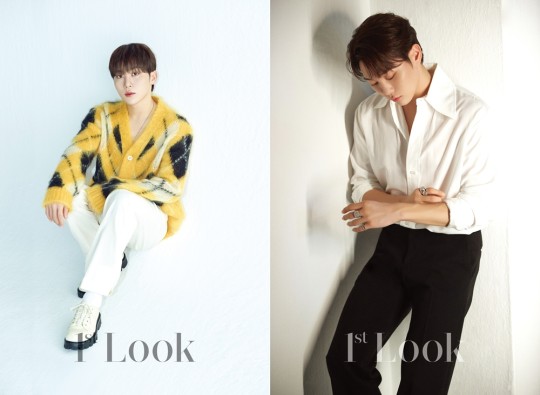 Read More About: Keystone Boyz Announces Official Group Name 'BLANK2Y'
best Kpop girl group
,
best kpop news site
,
best kpopstar
,
breaking news kpop
,
daily kpop news
,
DK
,
Fandom
,
Hip-hop Idol JIN
,
Hoshi
,
Jin
,
JIN news
,
Korean celeb news
,
Korean singer
,
Korean singer songwriter
,
KPOP
,
Kpop album
,
Kpop beauty routine
,
Kpop boy group
,
kpop celebrity news
,
Kpop chart and news
,
Kpop colllaboration
,
KPOP comeback
,
Kpop current news
,
kpop daily news
,
Kpop fashion
,
Kpop girls group
,
kpop group SEVENTEEN
,
kpop idol JIN
,
Kpop idols
,
Kpop issues
,
Kpop latest news
,
Kpop music chart
,
Kpop news
,
Kpop news articles
,
Kpop news sites
,
kpop news update
,
Kpop recent news
,
kpop seventeen
,
Kpop skin care routine
,
Kpop skincare routine
,
KPop trending news
,
KPOPNEWS
,
ready to love
,
Seungkwan
,
Seventeen
,
SEVENTEEN members
,
Singer JIN
,
South Korean singer songwriter
,
the best kpop girl group
,
the best kpop girl group of 2021
,
the best kpop group of 2021
,
the top kpop group
,
top kpop boy group
,
top kpop girl group
,
Vernon
,
Wonwoo
,
Woozi