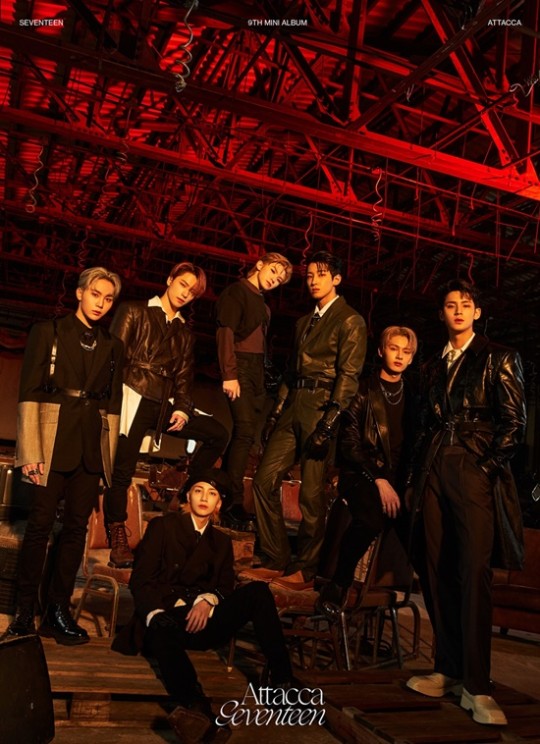 Kpop group SEVENTEEN (S.Coups, Jeonghan, Joshua, Jun, Hoshi, Wonwoo, Woozi, DK, Mingyu, The8, Seungkwan, Vernon, and Dino) has released the official photo op.3 of their 9th mini-album, 'Attacca.'
PLEDIS Entertainment published the official photo Op.3 of the 9th mini-album, 'Attacca,' on SEVENTEEN's official social media channel at midnight today, October 11. They first released the images of 7 out of 13 members, making their comeback hot. The album will be out to the public on October 22.
In the official photo op.3 individual photos, the seven members attract attention by radiating different charms. Mingyu, Jun, and Dino showed off their sharp sidelines, raising their seductive allure. Then, Seungkwan and Wonwoo exuded a dark masculine beauty. In addition, Woozi and Jeonghan exuded a unique aura with deeper eyes.
In the unit photos, SEVENTEEN doubled its intensity with red lights. They are showing off passionate, sexy charm in chic black outfits. So, it makes viewers' hearts flutter.
Remarkably, the official photo Op.3 has a different atmosphere from the previously released official photos Op.1 and Op.2. So, it further amplifies questions about the unique features the six members will show, raising expectations for various charms they will show through this 9th mini-album.
'Attacca' means to 'continue to play without interruption' when the next movement continues from the end of one movement. SEVENTEEN will convey their unstoppable and passionate heart and the heat of deeper love through this album.
As a result, SEVENTEEN's 9th mini-album, 'Attacca', surpassed 1.41 million pre-orders in Korea and abroad in just one day. So, it signals another million-seller record and career-high, attracting the global fans' attention to their glorious return as the 'global K-pop powerhouse.'
Meanwhile, Kpop group SEVENTEEN will release an additional official photo Op.3 of the 9th mini-album, 'Attacca', on October 12 and 13.
Read More About: NCT 127, NCT Dream & AESPA To Perform Live On U+ Idol Live
best Kpop girl group
,
best kpop news site
,
best kpopstar
,
breaking news kpop
,
daily kpop news
,
DK
,
Fandom
,
Hoshi
,
Korean celeb news
,
Korean singer
,
Korean singer songwriter
,
KPOP
,
Kpop album
,
Kpop beauty routine
,
Kpop boy group
,
kpop celebrity news
,
Kpop chart and news
,
Kpop colllaboration
,
KPOP comeback
,
Kpop current news
,
kpop daily news
,
Kpop fashion
,
Kpop girls group
,
kpop group SEVENTEEN
,
Kpop idols
,
Kpop issues
,
Kpop latest news
,
Kpop music chart
,
Kpop news
,
Kpop news articles
,
Kpop news sites
,
kpop news update
,
Kpop recent news
,
kpop seventeen
,
Kpop skin care routine
,
Kpop skincare routine
,
KPop trending news
,
KPOPNEWS
,
ready to love
,
Seungkwan
,
Seventeen
,
SEVENTEEN members
,
South Korean singer songwriter
,
the best kpop girl group
,
the best kpop girl group of 2021
,
the best kpop group of 2021
,
the top kpop group
,
top kpop boy group
,
top kpop girl group
,
Vernon
,
Wonwoo
,
Woozi