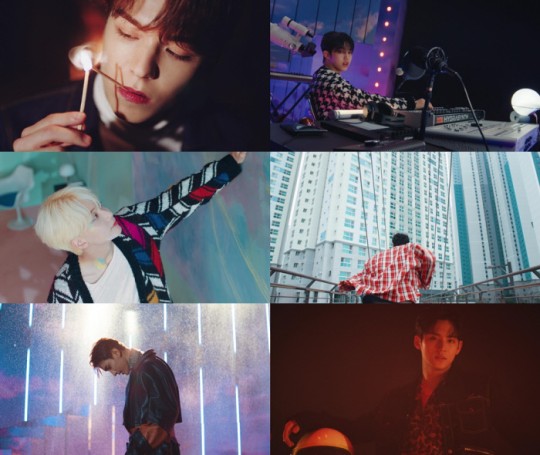 Kpop group SEVENTEEN (S.Coups, Jeonghan, Joshua, Jun, Hoshi, Wonwoo, Woozi, DK, Mingyu, The8, Seungkwan, Vernon, and Dino) delivered bold and hot energy with the MV teaser for the title song of their 9th mini-album.
SEVENTEEN released the first music video teaser for the title song 'Rock With You' of the 9th mini-album, 'Attacca,' through their official YouTube channel at midnight on October 20. They will officially release the album on October 22.
The released video starts with Joshua and Vernon lighting a fire in the dark. SEVENTEEN attracts attention by revealing various emotional lines in their respective spaces. SEVENTEEN produced passionate scenes such as running vigorously to somewhere, enjoying the wind, and dancing together.
In addition, various objects harmonized with some parts of the new song 'Rock With You' to complete a sensational video. S, it is raising the expectations of fans for the new album. Following Mingyu, who sent a deep gaze with a blazing flame, the 9th mini-album title song name, album name, and release date phrase appeared at the ending, stimulating excitement.
Notably, the visual transformation of SEVENTEEN, who tried a different styling for their comeback with the 9th mini-album, overwhelmed the fans at once. So, it gained a hot response from global fans by increasing immersion with a more mature aspect.
'Attacca' is the term 'Keep playing without interruption' when the next movement continues from the end of one movement.
The title song 'Rock With You' is a rock-based song with an attractive harmony of powerful synth sound. It features a guitar sound and a two-step rhythm. It expressed the sincerity of the members.
'Attacca' surpassed 1.41 million domestic and overseas pre-orders in just one day of pre-sale. SEVENTEEN, who is writing a new history with each album, heralds another million-seller and career-high. It only signals the glorious return of the 'global Kpop powerhouse.'
Meanwhile, Kpop group SEVENTEEN will release the title song's second music video teaser at midnight on October 21.
Read More About: ITZY 'LOCO' MV Approaches To 80 Million Views + 'SWIPE' MV Hits 10 Million Views
best Kpop girl group
,
best kpop news site
,
best kpopstar
,
breaking news kpop
,
daily kpop news
,
DK
,
Fandom
,
Hoshi
,
Korean celeb news
,
Korean singer
,
Korean singer songwriter
,
KPOP
,
Kpop album
,
Kpop beauty routine
,
Kpop boy group
,
kpop celebrity news
,
Kpop chart and news
,
Kpop colllaboration
,
KPOP comeback
,
Kpop current news
,
kpop daily news
,
Kpop fashion
,
Kpop girls group
,
kpop group SEVENTEEN
,
Kpop idols
,
Kpop issues
,
Kpop latest news
,
Kpop music chart
,
Kpop news
,
Kpop news articles
,
Kpop news sites
,
kpop news update
,
Kpop recent news
,
kpop seventeen
,
Kpop skin care routine
,
Kpop skincare routine
,
KPop trending news
,
KPOPNEWS
,
ready to love
,
Seungkwan
,
Seventeen
,
SEVENTEEN members
,
South Korean singer songwriter
,
the best kpop girl group
,
the best kpop girl group of 2021
,
the best kpop group of 2021
,
the top kpop group
,
top kpop boy group
,
top kpop girl group
,
Vernon
,
Wonwoo
,
Woozi