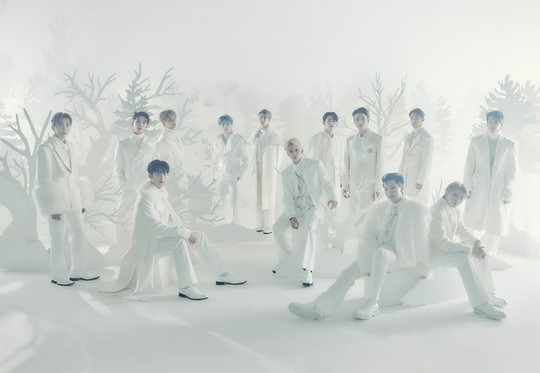 Kpop group SEVENTEEN (S.Coups, Jeonghan, Joshua, Jun, Hoshi, Wonwoo, Woozi, The8, Mingyu, DK, Seungkwan, Vernon, Dino) topped again with the Japanese special single 'Ainochikara (Power Of Love).'
According to the latest chart released by Oricon on December 17, SEVENTEEN's Japanese special single 'Ainochikara' took first place in the weekly combined single ranking, which combines album and music scores.
SEVENTEEN topped the weekly combined single rankings following the Oricon weekly single rankings. They ranked their Japan's second single 'Maiochiruhanabira (Fallin' Flower)' on April 13, 2020, Japan's third single 'Hitorijanai (Not Alone) on May 3, 2021, and the special single 'Ainochikara (Power Of Love)' on the latest chart.
Kpop group SEVENTEEN continues its No. 1 march with 'Ainochikara.'
Shortly after the pre-release, it topped the real-time charts on major Japanese music sites. It ranked on Line Music, AWA, and Rakuten Music. Also, it topped the weekly charts on Line Music and Rakuten Music. In Awa, they lined up from 1st to 3rd places, including the songs 'Home (Japanese ver.)' and 'Snap Shoot (Japanese ver.).'
'Ainochikara,' released on December 8, has been at the top of the Oricon Daily Single Ranking since its release. Also, it stood out on the album chart, ranking first in the weekly single rankings.
In addition, SEVENTEEN topped the Billboard Japan weekly single sales chart 'Top Single Sales' on December 15 with 246,904 sales. Then, it ranked second on the 'Hot 100' chart, a comprehensive song chart.
The Japanese special single Ainochikara' is SEVENTEEN's first winter song. Also, and it marks the grand finale of the 2021 'Power of Love' project. It talked about various moments of love that we can encounter in life. It contains a total of three songs, including the first ballad songs 'Ainochikara,' 'Home (Japanese ver.),' and 'Snap Shoot (Japanese ver.).'
'Ainochikara' is full of support and comfort messages that warm spring will come if all of us have the 'power of love' even in cold and difficult situations like winter. Also, it contains SEVENTEEN's love for CARAT, who always supports them.
Read More About: TWICE Cancels Seoul Concert Scheduled On December 24 Due To A Very Strict Social Distancing Guidelines
best Kpop girl group
,
best kpop news site
,
best kpopstar
,
breaking news kpop
,
daily kpop news
,
DK
,
Fandom
,
Hoshi
,
Korean celeb news
,
Korean singer
,
Korean singer songwriter
,
KPOP
,
Kpop album
,
Kpop beauty routine
,
Kpop boy group
,
kpop celebrity news
,
Kpop chart and news
,
Kpop colllaboration
,
KPOP comeback
,
Kpop current news
,
kpop daily news
,
Kpop fashion
,
Kpop girls group
,
kpop group SEVENTEEN
,
Kpop idols
,
Kpop issues
,
Kpop latest news
,
Kpop music chart
,
Kpop news
,
Kpop news articles
,
Kpop news sites
,
kpop news update
,
Kpop recent news
,
kpop seventeen
,
Kpop skin care routine
,
Kpop skincare routine
,
KPop trending news
,
KPOPNEWS
,
ready to love
,
Seungkwan
,
Seventeen
,
SEVENTEEN members
,
South Korean singer songwriter
,
the best kpop girl group
,
the best kpop girl group of 2021
,
the best kpop group of 2021
,
the top kpop group
,
top kpop boy group
,
top kpop girl group
,
Vernon
,
Wonwoo
,
Woozi