French makeup brand Laura Mercier has released a romantic daily beauty routine pictorial with SEVENTEEN member Mingyu.
They conducted this pictorial with the concept of revealing a sweet daily beauty routine of Mingyu. It ranges from Mingyu's waking up in the morning to getting ready to go out. This was his first personal beauty pictorial. But, Mingyu proved that he was a pictorial master with his charming eyes and flawless porcelain skin.
The product that completed Mingyu's flawless skin in the published pictorial is Laura Mercier's 'Floris Lumiere Radiance-Perfecting Cushion,' which is light and thin to cover pores and skin imperfections. This product has the nickname 'Diamond Cushion,' which contains fine diamond powder to create flawless and radiant skin.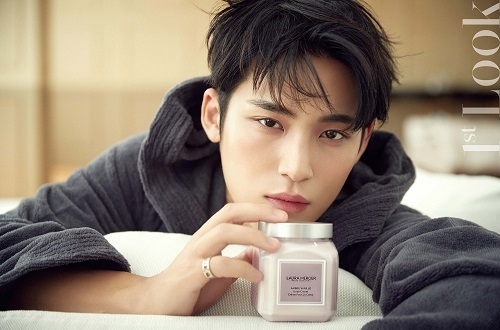 For the calm rose color lip, Mingyu used the 'Velour Extreme Matte Lipstick,' which boasts a soft application. Although it is a matte lipstick, it has a creamy texture that applies comfortably without drying. Also, it maintains vivid color for a long time.
He finished his daily beauty routine with Laura Mercier's 'Body Creme' and 'Hand Cream.'
Many people loved this product for its rich nourishing texture, moist moisturizing power, and sophisticated and luxurious fragrance. There are 4 scents: Almond Coconut Milk, Fresh Fig, Amber Vanilla, and Creme Brulee. Laura Mercier's unique sweet and special scent subtly lasts.
In the interview that followed, SEVENTEEN Mingyu said that he usually prefers sweet scents, scents that feel good when sprayed, and scents that heal. Mingyu picked Laura Mercier's amber vanilla scent as his favorite scent. He expressed his affection for the product. He said that he did not want to share it with the members because it is a fragrance that only he would like to know.
Mingyu's first beauty pictorial with Laura Mercier will be out through' 1st Look' magazine on September 2nd. They will also release videos of Mingyu's colorful appearance sequentially.
Meanwhile, Laura Mercier's 'Diamond Cushion' and 'Velour Extreme Matte Lipstick,' 'Souffle Body Creme,' and 'Hand Cream' selected by Mingyu can be found at Laura Mercier stores nationwide and online malls.
Read More About: Kpop Issue: Will Chinese Regulations Hit KPop Idols?
Daily beauty routine
,
Diamond Cushion
,
Hand Cream
,
Korean celeb news
,
KPOP
,
Kpop artist
,
Kpop artists
,
kpop celebrity news
,
Kpop daily
,
kpop daily news
,
Kpop latest news
,
kpop latest updates
,
Kpop news
,
kpop seventeen
,
Kpop trending
,
KPop trending news
,
KPOP2021
,
KPOPIDA
,
KPOPNEWS
,
latest kpop news
,
latest kpop updates
,
Laura Mercier
,
Seventeen
,
seventeen comeback
,
seventeen kpop
,
seventeen kpop updates
,
seventeen mingyu
,
seventeen news
,
Soufflé Body Creme
,
trending kpop
,
Trending Kpop news
,
trending kpop update
,
trending update kpop
,
Velour Extreme Matte Lipstick