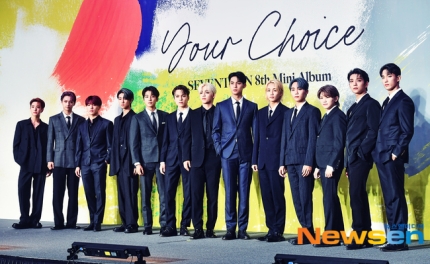 Group SEVENTEEN (S.Coups, Jeonghan, Joshua, Junhui, Hoshi, Wonwoo, Woozi, The8, Mingyu, DK, Seungkwan, Vernon, Dino) once again became a 'million-seller' (record sales of 1 million albums sold).
According to Hanteo Chart, a music sales website, on June 21, sales of SEVENTEEN's eighth mini-album 'Your Choice' released on June 18th, surpassed 1,059,903 copies as of 6 pm on June 21st. With this, they achieved their 4th 'million-seller' three days after their comeback.
This is the fourth time SEVENTEEN has become a 'million-seller' since their debut. Earlier, SEVENTEEN sold more than 1 million copies each with all three albums, starting with its seventh mini-album 'Henggarae,' Extended Play (EP) album 'Semicolon' and studio album, 'An Ode.'
Not only in Korea, but fans worldwide loved SEVENTEEN. Their new album topped the daily and weekly charts on the album bestseller on QQ Music, China's largest music site. Also, SEVENTEEN took first place in the iTunes Worldwide Song Chart, No. 1 on Japan's Oricon Chart Daily Album Rankings, first on Japan's largest music site, Line Music, and No. 1 on the Daily Chart.
SEVENTEEN, who achieved good results after their comeback, will continue to self-isolate until June 29. While filming for the new album on June 15, one HYBE member and one outsourced staff member who participated in the schedule were confirmed to be Covid-19 positive on June 18th and 19th. This makes all SEVENTEEN members as close contacts. After the end of self-isolation, they will announce the schedule for the resuming activities.
Read More About: SHINee Minho's Grandfather Has Passed Away
2021 kpop
,
2021 kpop news
,
2021 kpop news updates
,
2021 kpop updates
,
2021 updates on kpop
,
KPOP
,
Kpop 2021
,
Kpop artist
,
Kpop artists
,
Kpop idols
,
Kpop news
,
kpop seventeen
,
Kpop trend
,
Kpop trending
,
KPop trending news
,
Kpop trending now
,
KPOP2021
,
Kpopall
,
KPOPIDA
,
KPOPNEWS
,
Seventeen
,
seventeen comeback
,
seventeen kpop
,
seventeen kpop updates
,
seventeen news
,
seventeen Your Choice
,
seventeen_ready to love
,
seventeen_Your Choice
,
trending kpop
,
Trending Kpop news
,
trending kpop update
,
trending update kpop