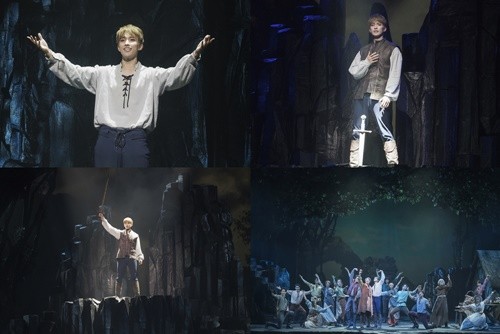 DK of the Kpop group SEVENTEEN successfully completed the last performance of the musical 'Xcalibur.'
SEVENTEEN member DK played the role of 'Arthur' in the musical 'Xcalibur' held at Shinhan Card Hall in Blue Square for about two months from August 19 to October 20, leading the audience's standing applause each time with more detailed choreography, brilliant action, and excellent singing power.
Remarkably, after the premiere of 'Xcalibur' in 2019, DK returned splendidly after two years, a young man born with the fate of a king. He perfected the role of 'Arthur,' who grows up and agonizes in front of his fate after drawing the holy sword, 'Xcalibur.'
He receives praises by proving his growth, showing 100% synchronization with the character, vocal ability, and acting ability.
DK said through his agency Pledis Entertainment, "I'm really sad, I'm relieved, and I have a lot of emotions. For me, 'Xcalibur' is a great gift. I was happy and thankful to be able to laugh and perform with the people I love. I will never forget the memories and emotions of 'Xcalibur," expressing his affection for the work.
DK continued, "Above all, I would like to sincerely thank all the audiences who came to see the performance during difficult times and made me feel happy. Also, I want to thank everyone who made me feel precious time. My appearance as 'Arthur' is over, but as SEVENTEEN's DK, I will give you strength with a better image."
Through the musical 'Xcalibur,' DK created 'Arthur' with his own color, showing infinite growth potential. He gave an absorbing performance and showed his presence with a figure that perfectly melted into the character. So, fans are paying more attention to his future steps.
Meanwhile, Kpop group SEVENTEEN, to which DK belongs, will release the 9th mini-album, 'Attacca,' at 1 pm on October 22. Also, they host a global press conference at 11 am before that.
Read More About: CNBLUE, New Album Topped iTunes Pop Album Chart In 10 Regions Including Japan
best Kpop girl group
,
best kpop news site
,
best kpopstar
,
breaking news kpop
,
daily kpop news
,
DK
,
Fandom
,
Hoshi
,
Korean celeb news
,
Korean singer
,
Korean singer songwriter
,
KPOP
,
Kpop album
,
Kpop beauty routine
,
Kpop boy group
,
kpop celebrity news
,
Kpop chart and news
,
Kpop colllaboration
,
KPOP comeback
,
Kpop current news
,
kpop daily news
,
Kpop fashion
,
Kpop girls group
,
kpop group SEVENTEEN
,
Kpop idols
,
Kpop issues
,
Kpop latest news
,
Kpop music chart
,
Kpop news
,
Kpop news articles
,
Kpop news sites
,
kpop news update
,
Kpop recent news
,
kpop seventeen
,
Kpop skin care routine
,
Kpop skincare routine
,
KPop trending news
,
KPOPNEWS
,
ready to love
,
Seungkwan
,
Seventeen
,
SEVENTEEN members
,
South Korean singer songwriter
,
the best kpop girl group
,
the best kpop girl group of 2021
,
the best kpop group of 2021
,
the top kpop group
,
top kpop boy group
,
top kpop girl group
,
Vernon
,
Wonwoo
,
Woozi