SEVENTEEN captured the attention of the whole world.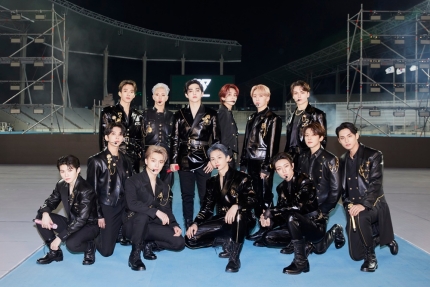 Recently, SEVENTEEN appeared on the American talk show 'The Ellen DeGeneres Show,' aired on April 1st. It gathered explosive responses around the world, showing off the group's global influence.
Their performance on the Ellen Show caused a slight delay in accessing the American media's homepage, 'Headline Planet.'
Through its official SNS, "The site runs slower than usual as it is receiving a record level of traffic."
People saying, "There is," are showing their interest in SEVENTEEN. Billboard in the US saw the powerful performance of SEVENTEEN on the 'Ellen Show.'
"SEVENTEEN is continuing the blockbuster on American TV," US Billboard said. Also, they once again mentioned the actions of SEVENTEEN in the show.
They attracted music fans from all over the world by providing a thrill with their unrivaled performance. Also, they presented live with a 'HIT' performance on the 'Ellen Show'.
Accordingly, SEVENTEEN'S 'HIT' performance video adds up to their YouTube's rapidly rising video rankings. Also, it achieved the feat of reaching the top 5 in Japan.
SEVENTEEN, famous worldwide, said, "We hope we can deliver the energy we have to more people. We will deliver it through the behind-the-scenes video of the 'Ellen Show.'
"In more places and with diverse people, we are sure to show our best," the group added.
As a result, SEVENTEEN appeared on famous overseas programs. They appeared on CBS's 'James Corden Show,' NBC's 'Kelly Clarkson Show' and 'Ellen Show.'
So, this only proves the group's global popularity, making them the 'Performance King.'
The group is coloring the worldwide music industry, and their next steps are raising expectations.
On the other hand, SEVENTEEN will release their Japan third single, 'Hitori Janai,' on April 21st. And, they will hold an online fan meeting and talk show in Japan on April 27th.
Read More About: BTS Proved Their Global Popularity On 'Let's BTS'