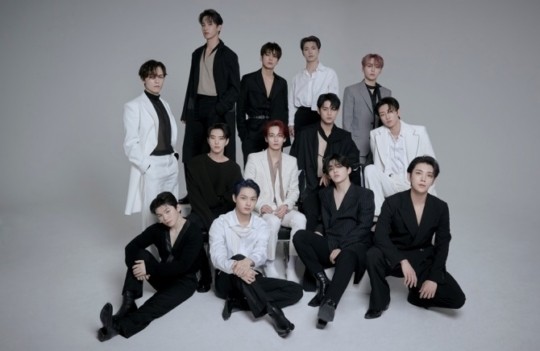 Group SEVENTEEN is continuing their stride with their 8th mini-album.
SEVENTEEN won triple crowns in the 25th week of the Gaon album chart, retail album chart, and download chart. It is with their 8th mini-album 'Your Choice' and title track 'Ready to Love,' released on June 18th.
With their 8th mini-album 'Your Choice,' SEVENTEEN surpassed 1.14 million album sales just 4 days after its release. They became a 'million-seller' in the shortest period of time. In their 'million-seller' list includes their 7th mini-album 'Henggarae,' special album 'Semicolon,' and third regular album 'An Ode.'
Now, SEVENTEEN is rising to the 'quadruple million-seller' with their recently released album, 'Your Choice.'
In response, Forbes of the US also focused on SEVENTEEN's achievement. Forbes said, "They have become one of the best sellers of the year in Korea. They are the biggest and most popular group in the industry."
So, foreign media continued to give positive reviews, realizing their worldwide popularity.
Particularly, SEVENTEEN proved their world-class power by exceeding 880,000 album sales on the first day of release with their 8th mini-album, 'Your Choice.'
They sold 1.09 million copies of the 7th mini-album 'Henggarae,' ranking 2nd in the first sales of all artists' albums. They easily broke through and have already achieved career highs. So, expectations and interest in the new record they set are gathering.
In addition, SEVENTEEN confirmed their appearance on ABC's signature talk shows 'Jimmy Kimmel Live!' and 'MTV Fresh Out Live.'
They announced their performance of the title song 'Ready to love.' So, they are attracting the attention of fans all over the world.
In fact, SEVENTEEN is breaking their own record for each album release. They proved the 'Spring, SEVENTEEN, Fall, Winter' formula with a deeper charm. They are conquering global music and album charts, showing their prominence in various fields.
Earlier, on June 18th, SEVENTEEN released their 8th mini-album 'Your Choice.'
Read More About: Big Mama "It's Been 9 Years…Thank You To Those Who Remembered"
2021 kpop
,
2021 kpop news
,
2021 kpop news updates
,
2021 kpop updates
,
2021 news kpop
,
2021 updates on kpop
,
hit_seventeen
,
KPOP
,
Kpop 2021
,
Kpop artist
,
Kpop artists
,
Kpop idols
,
Kpop news
,
kpop seventeen
,
Kpop trend
,
Kpop trending
,
KPop trending news
,
Kpop trending now
,
KPOP2021
,
Kpopall
,
KPOPIDA
,
KPOPNEWS
,
Kpopnews 2021
,
Kpopnews2021
,
Seventeen
,
seventeen comeback
,
seventeen kpop
,
seventeen kpop updates
,
seventeen news
,
seventeen Your Choice
,
seventeen_ready to love
,
seventeen_Your Choice
,
trending 2021
,
trending kpop
,
Trending Kpop news
,
trending kpop update
,
trending update kpop