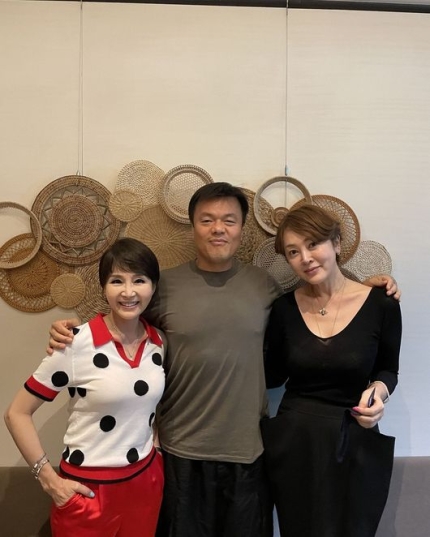 Actress Seungyeon Lee confessed about witnessing a date between singer Jinyoung Park (JYP) and his wife.
On June 19th, Seungyeon Lee posted on her Instagram, "I met the true genius, JYP, after a long time. In 1992, I made my debut in a special TV show, and Jinyoung also debuted. A true performer who sang 'Don't Leave Me' with a wonderful dance with those long arms and legs. I still have those vivid memories."
"We happened to meet in the restaurant. He is having a glass of wine with his wife. I almost took a picture of her because she was so beautiful."
The photo shows Seungyeon Lee, who met Jinyoung Park while having a meal with Nanhee Yoo at a restaurant. Seungyeon, who lost 9 kg, and Jinyoung Park's natural look attract attention.
Recently, Seungyeon revealed that she lost 9kg, which attracts the attention of the public.
Read More About: Hyori Lee Gives Advice To His Husband Sangsoon Lee, Who Will Be A Judge In 'Super Band 2'
2021 kpop
,
2021 kpop news
,
2021 kpop news updates
,
2021 kpop updates
,
2021 news kpop
,
2021 updates on kpop
,
actress lee seungyeon
,
jinyoung park
,
JYP
,
jyp kpop
,
KPOP
,
Kpop 2021
,
Kpop artist
,
Kpop artists
,
Kpop idols
,
kpop jinyoung park
,
kpop jyp
,
Kpop news
,
Kpop trend
,
Kpop trending
,
KPop trending news
,
Kpop trending now
,
KPOP2021
,
Kpopall
,
KPOPIDA
,
KPOPNEWS
,
lee seungyeon
,
park jinyoung
,
trending 2021
,
trending kpop
,
Trending Kpop news
,
trending kpop update
,
trending update kpop