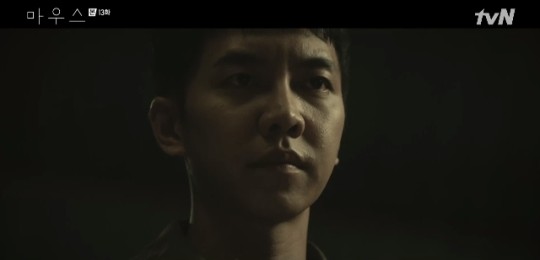 Seunggi Lee was discovered by Joohyun Park and Heejun Lee while he was continuing the predator murder.
In the 13th episode of tvN's Wednesday and Thursday drama 'Mouse' (played by Choi Ran, directing Choi Junbae), which aired on April 15, Koo Moo Chi (Heejun Lee) and Bareum Jeong (Seunggi Lee) were drawn after each other in close proximity.
On this day, Barruem Jeong avoided Koo Moo Chi's suspicion with the fabricated DNA of evidence. He put a knife in the river with his own hands and deliberately let Shin Sang (Jihoon Pyo) find it.
In response to this, Koo Moo Chi, who seemed to be suspicious toward Baruem Jeong (Seunggi Lee), said, "The DNA from Kang Deok-soo's stabbing knife was deliberately planted in prison. It seems to have been deliberately planted. We planted the DNA of a person in prison that proves to be 100% alibi. I think it's like making fun of the police." He came up with a completely different guess.
In the meantime, Koo Moo Chi looked for information on a bicycle black box that could be definite proof. But, this fell into the hands of Hongju Choi (Soojin Kyung) before Koo Moo Chi. After checking the video, Hongju Choi felt suspicious and looked at Bareum Jeong and Koo Moo Chi from a distance looking for a black box.
Meanwhile, he found out that Jaesik Lee, the protagonist of DNA in the weapon that hurt Deoksoo Kang (Eunpyo Jeong), used the same room as Deoksoo Kang. So, he found out that Deoksoo Kang, who was inspiring to visit Jaesik Lee, had forcibly removed Jaesik's patched clothes before release. And, he had decided to wear those clothes on a special day. When Deoksoo Kang wore the clothes for the first time on his death, Jaesik's DNA remained intact. He collapsed, knowing that the DNA contamination had occurred in the process of wiping the knife with his clothes.
Bong-i Oh (Joohyun Park) received Hongju's proposal and became the youngest author of 'Sherlock Hongju'. Bong-i Oh went to prison and accidentally met Bongcheol Kim, the murderer of the Suseong serial murder case. He felt some affection for him. After hearing that he had falsely confessed and falsely accused of abusive behavior, Bong-i went to the case for a broadcast item.
Afterward, Bong-i Oh entered the evidence storage room with the help of Bareum Jeong and examined the data overnight. Bong-i Oh told Bareum Jeong the next day, "You're too familiar with the expert's first crime. The first murder is awkward. So, I went through all the murders near Suseong and the attempted incident in Kowloon two years ago. I cut an apple and ate it. An apple came out from the body of the victim of the Suseong serial murder case." He asked if it was similar. Bong-i Oh replied, "Isn't it natural If it was unfairly framed, would you want to correct it?"
Bong-i Oh said, "If our reasoning is correct, the Kowloon survivor would not be the only survivor. Then, shouldn't we meet the survivor?" Meanwhile, the survivor of Kowloon is Jieun Seong (Jeongnan Kim), who was suffering after conceiving a child of Seojun Han (Jaewook Ahn) in the past. After that, Bong-i visited Jieun's house with the help of Bareum Jeong. He received a testimony of what he had suffered in Kowloon that day. However, the case covered by Bong-i Oh was cut from the top line because if touched incorrectly, the court would be overturned.
As Bareum Jeong was so upset with this, he devised a scheme for the broadcast to be aired. He knew that Bongcheol Kim's daughter Dasol was the fiancee of Shin-sang, the son of candidate Sungmin Shin. Bareum Jeong deliberately leaked to the reporter, "I discovered something by accident while arranging the murder case data." Then Bong-i Oh was able to get permission to broadcast.
Afterward, 'Sherlock Hongju' concentrated on the Suseong serial murder case. She added Jieun's testimony and sent it to the broadcast. The content is that the criminal in the Kowloon incident at the time spoke an abusive language to Jieun, saying, "Just kill me." But Bongcheol Kim, who is currently serving in prison, has a congenital hearing impairment. The reason Bongcheol Kim was caught is due to cadmium. But, the place where cadmium can come out at the time is a jeans dyeing factory. As a result, they felt worried that some of the clothes that the killer had intentionally planted among the clothes that came out of the Deoksoo Kang incident while watching the broadcast suddenly realized something in the jeans dyeing factory'.
Simultaneously, the owner of the black bicycle box Hongju Choi found something on his laptop. He aimed for a reward and reported it to 'Sherlock Hongju,' and Hongju Choi handed over the confirmation of the report to Bong-i Oh in a small way.
Koo Moo Chi began an investigation into the jeans dyeing factory. He gave much attention to Jaesik Lee, whose DNA was in the Deoksoo Kang's case earlier. Jaesik Lee was in prison for five years because he caught his stepdaughter's rapist on the spot, assaulted him, and killed him.
Next, he met Jaesik Lee's stepdaughter. He said, "Jaesik Lee was going to rape me, and my brother, who was having sex with me. He saw it and tried to save me. Then the cub struck him with bricks. If I tell the truth, he will kill my mother and me. It was so scary." He's convinced that Jaesik Lee was the real culprit of the Mercury serial murder case. He said, "This is a foreshadowing that Jaesik Lee is the next target. He is a psychopath." He then realized why Jaesik Lee's DNA came from the murder site of Deoksoo Kang.
However, Jaesik Lee has already been released. Then, Bareum Jeong (Seunggi Lee) captured Jaesik Lee. In requesting a toothbrush from Daniel Lee (played by Jaeyoon Cho), he confirmed that Jaesik Lee was a real psychopath. Also, Bareum Jeong obtained Bongcheol Kim's hair separately and found out that he has a normal person's gene.
On this day, Bareum Jeong hurt Jaesik Lee, who had just been released. He asked cruelly, "The victims must have said so at the time. But what did you do?"
At that time, while the owner of the black box was admitted to the hospital, Bong-i Oh secretly stole the USB and checked it in a nearby PC room. This was because the person who killed Deoksoo Kang assumed that it was encouraging. However, Bong-i was astonished by saying, 'Was it your brother?' when he checked the face of Bareum Jeong in the USB video.
Meanwhile, while looking for the site of the tenth victim of the Mercury serial murder, which is supposed to happen, an inspiring incident came into contact with Bareum Jeong (Seunggi Lee), who was strangled by Jaesik Lee.
Read More About: Taecyeon Ok Revealed His Impression On 'Vincenzo Special'
2021 kpop news
,
2021 kpop news updates
,
2021 kpop updates
,
2021 updates on kpop
,
KPOP
,
Kpop 2021
,
Kpop artist
,
Kpop artists
,
Kpop famous
,
Kpop news
,
Kpop trend
,
Kpop trending
,
KPop trending news
,
Kpop trending now
,
kpop trending update
,
KPOP2021
,
Kpopall
,
KPOPIDA
,
KPOPNEWS
,
Lee Seunggi Drama
,
Lee Seunggi_Mouse
,
mouse
,
Trending
,
trending 2021
,
trending kpop
,
Trending Kpop news
,
trending kpop update
,
trending news
,
trending update kpop