Kpop singer and songwriter Seori presented a wonderful performance at the 'HITC Festival.'
On the afternoon of November 7 (US time), the 'Head In The Clouds Festival (HITC)' took place at Rose Bowl Stadium in Pasadena, California, USA, and it aired live worldwide through Twitch.
The 'HITC Festival' is the first Asian-led music and art festival in the United States through a partnership with Live Nation, the largest performance agency in the United States, in 2018 by global media company 88 Rising. After the online charity concert 'Asia Rising Together' in May, Seori performed her song in front of the worldwide audience through the 'HITC Festival.'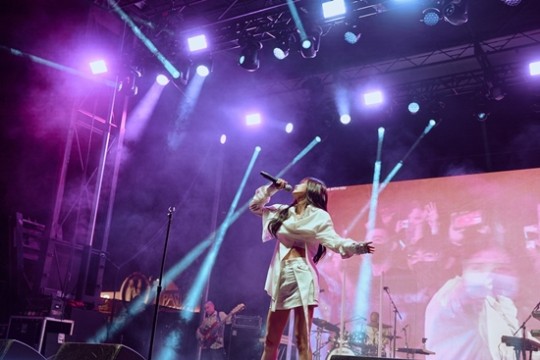 On this day, Seori sang 'Dive with You' and 'It Just Is (Feat. DAY6 Jae).'
'Dive With You' is Seori's fourth single released in August, and 'It Just Is,' released on Jae's YouTube last year. Seori and DAY6 Jae showed a better live performance than the song with an attractive voice.
Also, Seori decorated the finale stage and finished a successful performance with Indonesian rapper Warren Hue. They sang the OST of the Marvel movie 'Shangchi And The Legend Of The Ten Rings' titled 'Warriors.'
Seori once again revealed her global presence through this performance. She's a new singer-songwriter who is active in music activities. This year, she released singles such as 'Dive with You,' 'Lovers in the Night,' and 'The Long Night.'
Also, she attracted the attention of fans by participating in the new songs of TOMORROW X TOGETHER (TXT) and Giriboy.
Along with her recent participation in the 'HITC Festival,' the public also recognized her musicality. She is one of the '2022 Notable Artists' by VEVO, a US music media service company.
Kpop singer Seori will continue to carry out various musical activities around the world.
Read More About: ITZY Celebrates Their 1000th Debut Day!
best Kpop girl group
,
best kpop news site
,
best kpopstar
,
breaking news kpop
,
composer Seori
,
daily kpop news
,
Day6
,
DAY6 kpop news
,
DAY6 members
,
DAY6 unit
,
DAY6 updates
,
Dive With You
,
DOWOON
,
Even Of Day
,
Fandom
,
Hip-hop Idol JIN
,
Jin
,
JIN news
,
Korean celeb news
,
Korean singer
,
Korean singer songwriter
,
KPOP
,
Kpop album
,
Kpop beauty routine
,
Kpop boy group
,
kpop celebrity news
,
Kpop chart and news
,
Kpop colllaboration
,
KPOP comeback
,
Kpop current news
,
kpop daily news
,
kpop day6
,
Kpop fashion
,
Kpop girls group
,
kpop idol JIN
,
Kpop idols
,
Kpop issues
,
Kpop latest news
,
Kpop music chart
,
Kpop news
,
Kpop news articles
,
Kpop news sites
,
kpop news update
,
Kpop recent news
,
kpop singer Seori
,
Kpop skin care routine
,
Kpop skincare routine
,
KPop trending news
,
KPOPNEWS
,
Right Through Me
,
seori
,
Seori news
,
Seori single
,
Seori updates
,
Singer JIN
,
singer Seori
,
South Korean singer songwriter
,
the best kpop girl group
,
the best kpop girl group of 2021
,
the best kpop group of 2021
,
the top kpop group
,
top kpop boy group
,
top kpop girl group
,
WONPIL
,
YOUNG K