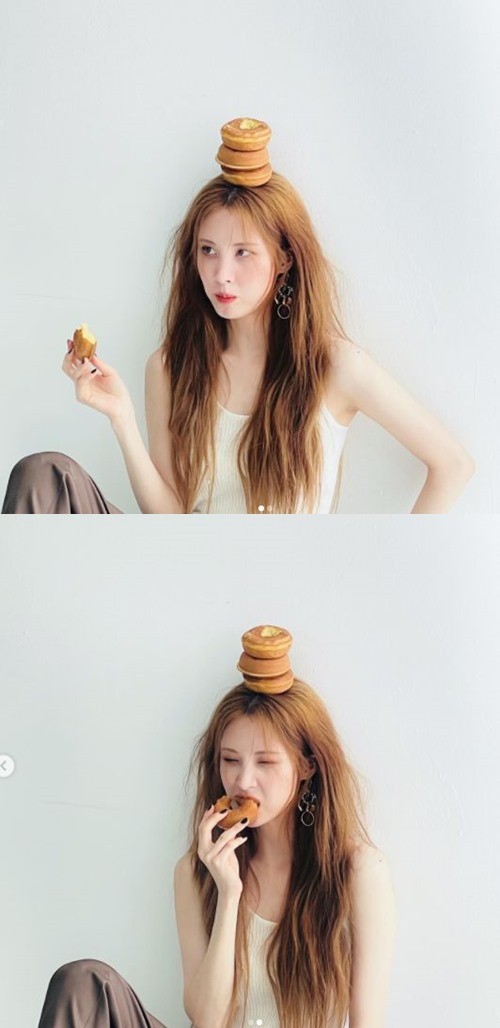 Seohyun of the Kpop group Girls' Generation showed off her provocative charm.

She posted on Instagram on February 1, saying, "Have a Happy Lunar New Year. Happy new year♥" along with a picture.

The photo shows Seohyun in a pictorial. She boasts provocative and seductive charm with a crunchy hairstyle and enchanting makeup.

In another photo, she was eating a donut.

In a chic aura, she exuded a sexy yet alluring charm. Also, she closed their eyes tightly and added cuteness as if she was happy eating a donut.

Meanwhile, Kpop group Girls' Generation member Seohyun will appear in the Netflix original 'Love and Leashes,' set to premiere on February 11.
Read More About: DJ SODA Flaunts Her More Daring Fashion!
best kpop news site
,
breaking news kpop
,
daily kpop news
,
girl generation yuri
,
Girls Generation
,
girls generation birthday
,
girls generation kpop
,
girls generation kpop news
,
girls generation news
,
girls generation Seohyun
,
girls generation sunny
,
girls generation taeyeon
,
Girls generation Tiffany
,
girls generation updates
,
girls generation_hyoyeon
,
girls generation_sunny
,
girls generation_tifanny
,
girls generation_Yoonah
,
Girls generation_yuri
,
girls' generatio seohyunn
,
Korean celeb news
,
KPOP
,
Kpop artist
,
Kpop artists
,
kpop celebrity news
,
Kpop chart and news
,
Kpop current news
,
kpop daily news
,
Kpop idols
,
Kpop latest news
,
Kpop news
,
Kpop news articles
,
Kpop news sites
,
kpop news update
,
Kpop recent news
,
Kpop trending
,
KPop trending news
,
Kpop trending now
,
KPOPIDA
,
KPOPNEWS
,
Seohyun
,
seohyun instagram
,
seohyun skinship issue
,
sunmi girls generation
,
trending kpop
,
Trending Kpop news
,
trending kpop update
,
trending news