Former Kpop group I.O.I member and actress Sejeong Kim shared her happy daily life.
On December 30, Sejeong Kim posted nine photos of herself posing in front of a coffee truck sent by her fans along with the caption "♥Happy coffee truck♥" on her Instagram.
In the published photo, Sejeong Kim is making a lively expression holding a cup of coffee and tteokbokki. So, it causes netizens to admire her. Particularly, Sejeong's beauty stands out even with her frizzy hair and 'super close-up shots.'
In addition, Sejeong, jumping with a bright smile in front of a coffee truck with witty phrases such as 'Sejeong, why are you alone every day? My fiancee" is reminiscent of a fairy.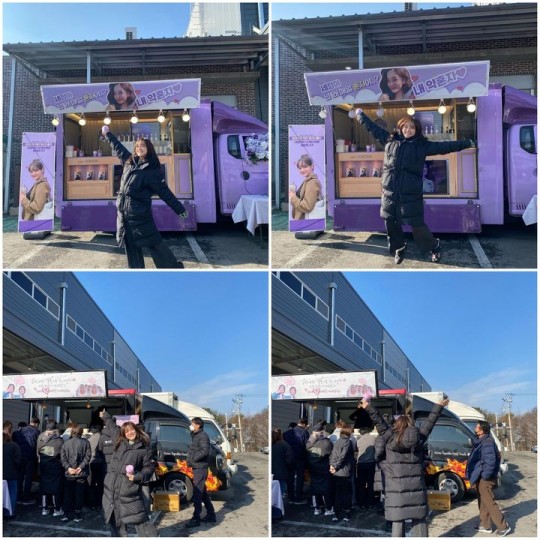 Meanwhile, Sejeong Kim made her debut as a member of the Kpop group I.O.I in 2016 with the debut album, 'Chrysalis.'
She has met viewers through several programs such as 'The Uncanny Counter,' 'I Wanna Hear Your Song,' and 'Busted!'
Read More About: 'WELCOME K-POP CLICK' Concert To Reveal Artist Lineup On January 2
2021 kpop news
,
2021 kpop news updates
,
best 5 autumn singers
,
best Kpop girl group
,
best kpop news site
,
best Kpop site
,
best kpopstar
,
breaking news kpop
,
bts the best album
,
daily kpop news
,
IOI
,
kim sejeong
,
Korean celeb news
,
KPOP
,
Kpop artist
,
Kpop artists
,
kpop celebrity news
,
Kpop chart and news
,
Kpop current news
,
kpop daily news
,
Kpop group I.O.I
,
kpop group IVE news
,
Kpop idols
,
Kpop latest news
,
Kpop news
,
Kpop news articles
,
Kpop news sites
,
kpop news update
,
Kpop recent news
,
Kpop trending
,
KPop trending news
,
Kpop trending now
,
KPOP2021
,
KPOPIDA
,
KPOPNEWS
,
The Best Album
,
the best kpop girl group
,
the best kpop girl group of 2021
,
the best kpop group of 2021
,
trending kpop
,
Trending Kpop news
,
trending kpop update
,
trending news
,
trending update kpop