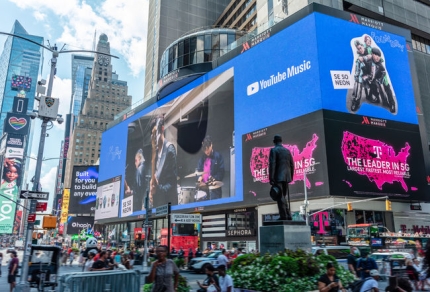 Kpop band SE SO NEON appeared on Billboard in downtown areas in the US and UK. SE SO NEON will be Korea's representative artist in YouTube's '2021 Foundry' program. They will begin to leap forward as a world-class artist with YouTube Music.
On July 28th, the global video community YouTube announced that it would conduct the global artist development program '2021 Foundry' with 27 teams of artists from 14 countries worldwide.
The SE SO NEON band will be the only Korean artist to participate in the foundry. They will have the opportunity to build relationships with audiences and artists around the world. Participating artists will have independent music activities to boost creativity and potential through a workshop-type program. Also, they will have an opportunity to increase their presence with audiences worldwide through the YouTube platform.
After selecting SE SO NEON as foundry, videos and photos appeared on billboards in downtown areas in the US (NYC, LA) and England (London). So, it is raising the expectations of listeners around the world.
SE SO NEON said, "We are happy to be part of the foundry. Also, we are concentrating on the success of our activities. We will repay you with good work."
Kpop band SE SO NEON members include Soyoon, U Su, and Hyunjin. SE SO NEON is a band that pursues 'a colorful music spectrum that transcends genre boundaries, love for vintage textures, explosive energy, and emotions.'
Also, above all else, the band symbolizes a pursuit of novelty. Through 'Freedom,' many music fans recognized their work. The band is receiving various projects around the world.
As of now, Foundry has so far attracted more than 150 artists from 15 countries. They produced outstanding artists, including Dua Lipa, Arlo Parks, Rosalia, Omar Apollo, Dave, Gunner, Hardy, and Thames. As Korean artists, the producing duo GroovyRoom and singer-songwriter Sam Kim participated.
Read More About: Interboys Releases Dance Cover Video Teaser For 'Back Door'
2021 kpop news
,
2021 kpop news updates
,
2021 kpop updates
,
2021 news kpop
,
band SE SO NEON
,
Korean celeb news
,
KPOP
,
Kpop artist
,
Kpop artists
,
kpop celebrity news
,
Kpop latest news
,
Kpop news
,
kpop SE SO NEON
,
Kpop trending
,
KPop trending news
,
KPOP2021
,
KPOPIDA
,
KPOPNEWS
,
latest kpop news
,
latest kpop updates
,
SE SO NEON band
,
SE SO NEON kpop
,
SE SO NEON kpop news
,
SE SO NEON latest news
,
SE SO NEON news
,
trending 2021
,
trending kpop
,
Trending Kpop news
,
trending kpop update
,
trending news
,
trending update kpop
,
Youtube 2021 Foundry