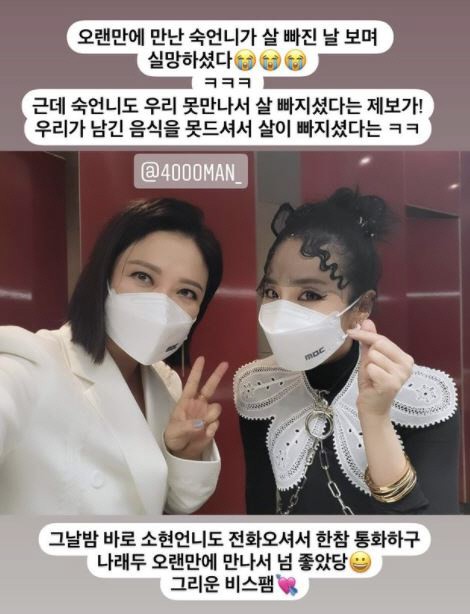 Sandara Park, a former member of the Kpop group 2NE1, shared her current situation.
On January 2, Sandara Park posted on Instagram, saying, "I was disappointed to see Sook lose weight after a long time. But Sook also lost weight because she couldn't see us! You lost weight because you couldn't eat the food we left behind."
Sandara Park in the picture shows her friendship with Kim Sook. For years, the two have worked together as MBC's every1 'Video Star' hosts. Also, the two give powerful warmth.
Meanwhile, Kpop group 2NE1 member Sandara Park won the Popularity Award at the 2021 MBC Entertainment Awards held on December 29. Recently, she appeared on KBS's 'Problem Child In House' and said, "I lived maintaining 38kg. I didn't have much appetite," she said, drawing attention.
Read More About: BTOB Successfully Completed Their Fan Meeting As A Whole Group!
2021 kpop news
,
2021 kpop news updates
,
2ne1
,
2NE1 KPOP
,
2NE1 member CL
,
2ne1 minzy
,
2ne1 Park Bom
,
2ne1 sandara
,
2NE1_CL
,
2ne1_Park Bom
,
2NE1_Sandara park
,
best kpop news site
,
breaking news kpop
,
CL OF 2NE1
,
daily kpop news
,
Korean celeb news
,
KPOP
,
KPOP 2NE1
,
Kpop artist
,
Kpop artists
,
kpop celebrity news
,
Kpop chart and news
,
Kpop current news
,
kpop daily news
,
Kpop idols
,
Kpop latest news
,
Kpop news
,
Kpop news articles
,
Kpop news sites
,
kpop news update
,
Kpop recent news
,
kpop Sandara Park
,
Kpop trending
,
KPop trending news
,
Kpop trending now
,
KPOP2021
,
KPOPIDA
,
KPOPNEWS
,
sandara
,
sandara Park
,
Sandara Park Instagram
,
trending kpop
,
Trending Kpop news
,
trending kpop update
,
trending news
,
trending update kpop