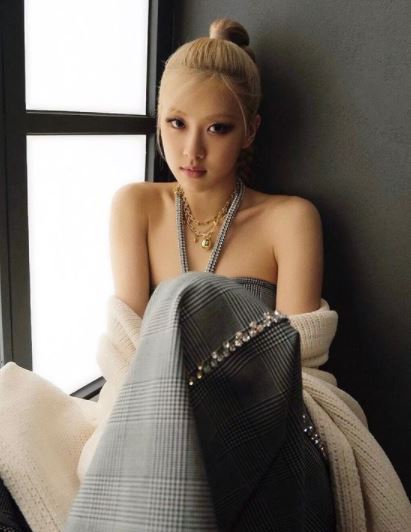 Rose of Blackpink surpassed 440,000 copies of initial album sales. It adds another new record for a K-pop female solo artist.
According to Hanteo Chart on March 23rd, Black Pink's Rose's 1st solo single 'R' has an initial record of 444,089 copies. It is the sales for a week after the album was released. This is the sum of only CD and Kit (KiT) albums, excluding limited-edition LPs. So total sales are expected to continue increasing.
'R,' the album of Rose, recorded over 500,000 copies during the pre-order period, predicting a blast. As soon as it's released on March 16th, an overwhelming sales volume of more than 280,000 copies is recorded. Rose has written a new history as a K-pop female solo artist to achieve such sales (based on Hanteo Chart).
On March 22nd, Rose was the first K-pop solo artist topped at the US Billboard Global Chart. It reflects the latest trends in the popular music market. Billboard of the United States first released the rankings of two major charts that aggregated data from March 12 to 18 through an article on their homepage.
It's the Billboard Global 200 and Billboard Global US charts, where 'On The Ground' by Rose both topped the list. The subtitle song 'Gone' also ranked 29th and 17th, respectively.
Billboard Global 200 ranks the most popular songs based on streaming and music sales (downloads) collected in more than 200 regions worldwide, including the United States.
Rose released her first solo album on March 12th. She achieved unprecedented records on various global charts such as music sources, albums, and music videos.
Earlier, the debut album of Rose, which is titled, 'R,' began its pre-sale on March 4th.