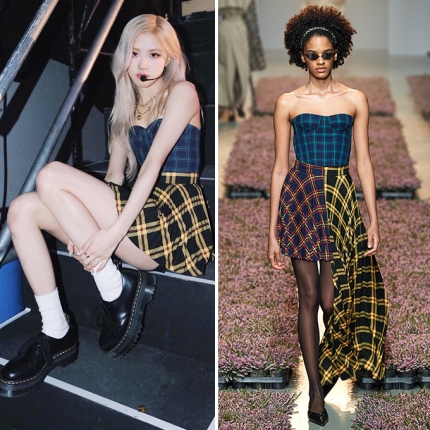 Rose of Black Pink attracted attention with her successful solo debut. Recently, she showed off her breathtaking stage costumes.
On March 18th, she performed her new song on Mnet's 'M Countdown'.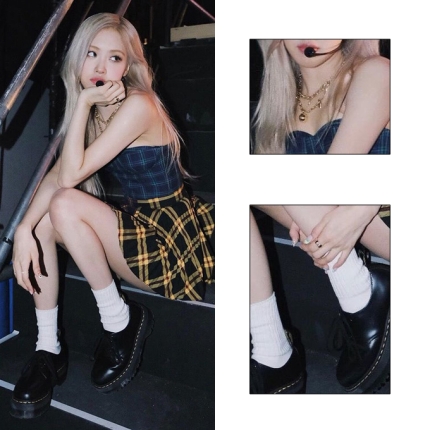 Rosé wore a checkered skirt with a red and yellow bustier top with a blue-green checkered pattern. Also, she matched her clothes with white socks and loafers to complete a stylish frappy look.
Icy blonde Rose loosened her long hair and layered gorgeous rose gold jewelry to add brilliance.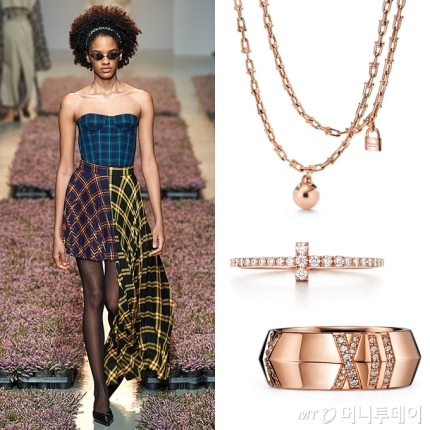 The outfit that Rosé wore on that day was from ROKH's 2020 F/W collection dress. Rose cut the unbalanced skirt short and made it a mini skirt.
The jewelry worn by Rose is a 'Tiffany' product. The price of a necklace is a whopping 25.2 million won. The combined price of the diamond ring she wore together exceeds 50 million won.
On the other hand, Rosé, who presents as a soloist, released her new song 'On The Ground' and is gaining popularity today.
On March 16th, she appeared on the US talk show, 'The Jimmy Fallon Show,' and performed her new song, 'On The Ground.'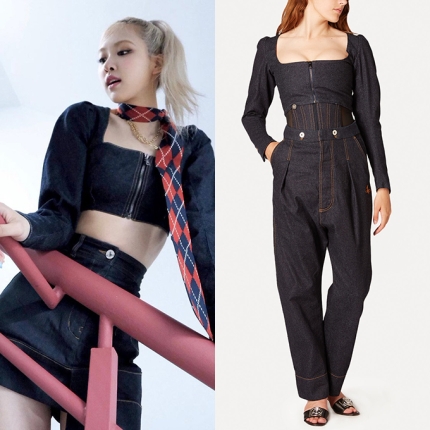 Then, Rosé of Black Pink, who is active as a soloist, showed off her stylish green and blue fashion.
On March 29th, Rose posted several photos on her Instagram. Her picture took place on the broadcasting station's stairs after finishing her SBS 'Inkigayo' performance.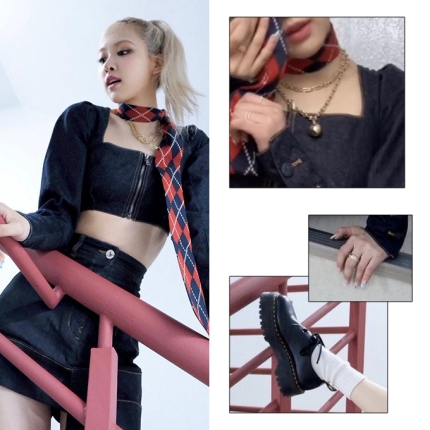 Rose is wearing a checkered twilly with a ponytail hair tied high. Also, she paired it with a cropped denim jacket with a wide neckline in the photo. Besides, a chain-embellished necklace matched her mini skirt of the same color as the jacket. It adds to her look's elegance.
Particularly, Rosé attracted attention by showing off her long, straight legs even when wearing a walker. Also, her narrow waistline shows no fat.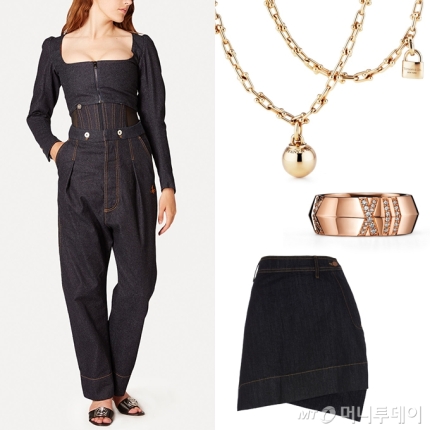 Meanwhile, the outfit Rosé wore is a product of 'Vivian Westwood.' The jacket is $705, and the skirt is $275. The price is a whopping 1.12 million won.
Recently, she is wearing the necklace and ring from 'Tiffany & Co' on her various outfits. The prices range to 25.2 million won and 5.59 million won.
The combined items Rosé wore on that day, including the shoes, cost a whopping 32.48 million won.
On the other hand, Rosé took first place with her solo song 'On The Ground' in SBS 'Inkigayo,' on March 28th.