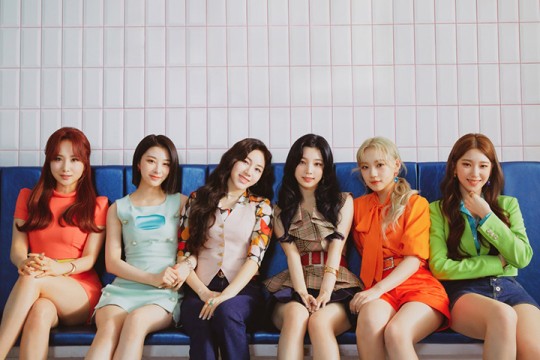 Rocket Punch first single 'Ring Ring' will be released today ( May 17th).
Woollim Entertainment is releasing the first single 'Ring Ring' of Rocket Punch (Yeonhee, Juri, Suyun, Yunkyoung, Sohee, Dahyun) through various music sites today ( May 17th) at 6 pm.
The first single, 'Ring Ring,' is an album that stands out with the concept of 'NEWTRO.' This is a new word that combines 'NEW' meaning 'new' and 'RETRO' meaning 'retro.'
The title song 'Ring Ring' from the album of the same name announces a new challenge for Rocket Punch. This song expresses the dignified love in the popping and witty lyrics of 'I will go to the person who rings my phone first.'
Rocket Punch transformed into a 'Newtro Fairy' that will hit this summer. They will be showing an upgraded appearance in various fields such as visual, vocal, and performance. Also, they began to introduce their first single 'Ring Ring' before their full-fledged activities.
Q. How do you feel about making a comeback with your first single, 'Ring Ring' after finishing the trilogy of 'Color Series?'
Yunkyoung: Since it's our first single after finishing the 'Color Series' trilogy, we wanted to show you better performances. Rocket Punch worked hard on it. Please listen to our new concept song 'Ring Ring' and love it!
Q. What was the title song 'Ring Ring' like when you first heard it?
Suyun: The first single title song 'Ring Ring' is a song where you can feel the bouncy retro atmosphere from its introduction. The witty and confident lyrics are impressive! When I first heard it, it was really new and I thought I should work hard to express this song well.
Q. Which Rocket Punch member looks best with the 'Ring Ring' concept?
Yeonhee: Yunkyoung! Short hair is a big change of image. I think it looks good on her when she dances!
Juri: I think Yeonhee looks really good on 'Ring Ring.'
Dahyun: It's hard to choose because all the members are good at expressing. But, I personally think YUNKYOUNG fits well. She changed her hair into a bobbed hair style, and she did a great job. While preparing for the promotions, I was surprised that the new concept fits her well.
Q. What would be the killing part of 'Ring Ring?'
Juri: I think Sohee's rap part is really the best part!
Q. Is there any new concept that you've tried for the first time since your debut?
Sohee: Personally, I searched many newtro items, retro costumes, songs from those days, and the performances of retro concept from idol seniors. I think it's Newtro. When it comes to retro, I think the word 'Excitement' comes to my mind first! So, we worked hard to prepare the album by considering those points, searching a lot, and commenting on each other. So, we can capture the excitement and charm of Rocket Punch and express it well in the song.
Q. What is the most memorable episode while filming the music video?
Dahyun: This is our first time shooting a music video outdoors. There was a time when it was a bit cold while filming. So it was fun to remember that all of the members were stuck together like a penguin to warm up a little. I remember that it was a time when I could understand the penguins' minds!
Q. When does the Rocket Punch 'Ring Ring' ring in your daily life?
Suyun: There are days when I can sing well while practicing. It sounds like a 'Ring Ring' on a day like that. I feel good, and I'm excited that today will be a good day.
Yunkyoung: There are many times when I forget where I put things. But, at the moment when I think I lost it and give up, I suddenly find it. I think it's the moment when the 'Ring Ring' rings.
Sohee: I think it's the happiest moment when I laugh with the members, or when a funny thing happens, and we laugh together. That's when my heart rings like a 'Ring Ring!'
Q. Say something to 'Ketchy' (fan club) while they are waiting for your comeback.
Yeonhee: Ketchy! Thank you for trusting and waiting for Rocket Punch for so long. As we spend time together, I think Rocket Punch and Ketchy are growing together. As much as we've been waiting, let's enjoy this promotion!
Read More About: Blitzers Performed 'Breathe Again' On SBS Inkigayo
KPOP
,
Kpop 2021
,
Kpop artist
,
Kpop artists
,
Kpop idols
,
Kpop news
,
Kpop trending
,
KPop trending news
,
Kpop trending now
,
KPOP2021
,
Kpopall
,
KPOPIDA
,
KPOPNEWS
,
rocket punch
,
rocket punch comeback
,
rocket punch kpop
,
rocket punch new single
,
rocket punch_ring ring
,
Trending
,
trending 2021
,
trending kpop
,
Trending Kpop news
,
trending kpop update
,
trending news
,
trending update kpop