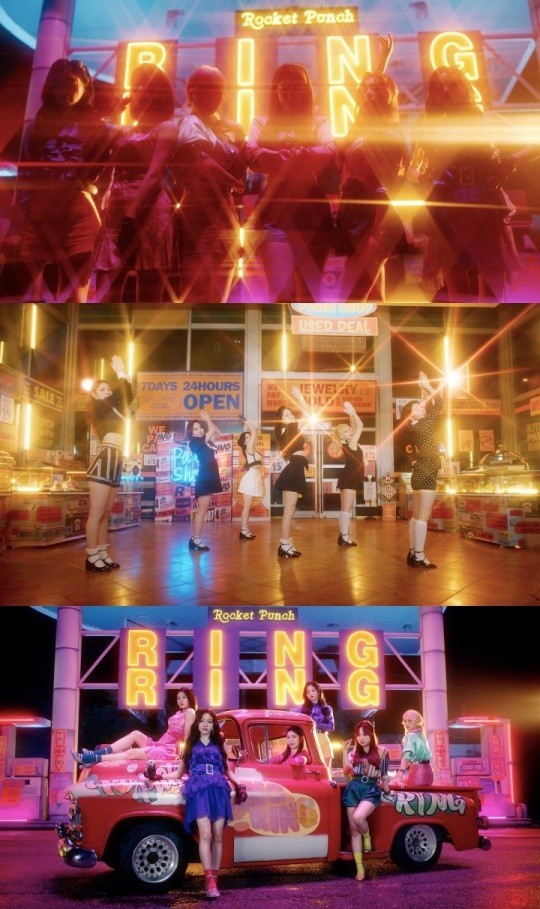 The new song performance of the girl group Rocket Punch, which is about to come back, has taken off the veil.
At 6 pm on May 13, Woollim Entertainment released a teaser video for the second single title song, 'Ring Ring.'
It is the second single title of Rocket Punch (Yeonhee, Juri, Suyun, Yunkyoung, Sohee, Dahyun) released on its official SNS channel.
Rocket Punch in the released video captures the attention of fans by showing a group dance following an addictive melody. They featured a colorful classic car and neon signs in the background.
Particularly, the point choreography will make your shoulders shake as it contains the fresh energy of the members. It will make fans look forward to the performance that the group will present through this album.
In fact, 'Ring Ring' is a song that mixes the Synthwave genre with the 80's Synthpop style. Also, it conveys the new challenge of Rocket Punch, which expresses their confident love with plump and witty lyrics.
Rocket Punch returns to fans in about eight months after 'BLUE PUNCH.' They are now captivating K-pop fans around the world through the new album 'Ring Ring.'
In this album, the members have transformed into a 'Newtro (New Plus Retro) Fairy.' So, music fans are looking forward to seeing how the group will impact this summer in the music industry.
Rocket Punch will be releasing its first single, 'Ring Ring,' through various sound source sites at 6 pm on May 17 and begin full-fledged activities.
Read More About: KISSTA Released Double Single Album, 'VIVID PHONE'
KPOP
,
Kpop 2021
,
Kpop artist
,
Kpop artists
,
Kpop idols
,
Kpop news
,
Kpop trending
,
KPop trending news
,
Kpop trending now
,
KPOP2021
,
Kpopall
,
KPOPIDA
,
KPOPNEWS
,
Kpopstars
,
rocket punch
,
rocket punch comeback
,
rocket punch kpop
,
rocket punch new single
,
rocket punch_ring ring
,
Trending
,
trending 2021
,
trending kpop
,
Trending Kpop news
,
trending kpop update
,
trending news
,
trending update kpop