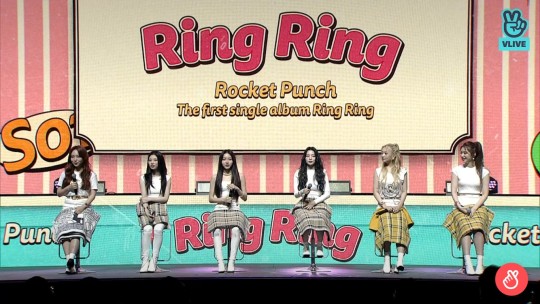 Rocket Punch welcomes their fans, which they do not meet for a long time.

The group Rocket Punch held a fan showcase on the afternoon of May 17th. This is to commemorate the release of their new song 'Ring Ring' through V LIVE.
Rocket Punch (Juri, Yunkyoung, Dahyun, Yeonhee, Sohee and Suyun) made a comeback with their first single, 'Ring Ring,' after eight months. The title track of the album, 'Ring Ring,' features the concept of 'Newtro.' It is a song that combines synthwave genre with synth-pop style in the 1980s. Also, it expresses Rocket Punch's confident love with plump and witty lyrics.
The members expressed their feelings about their comeback and holding a face-to-face showcase after a long time. When asked how they felt about meeting fans after a long time, Sohee said, "I was happy and nervous because I had the opportunity to show you my performance in person after a long time. I was wondering if I could do well. But, I thought I would make a good time for the fans who came."
"It didn't feel real until the day before the showcase. The members talked about why it didn't feel real when they were filming a music video. But it felt real when the curtains rose, and we finally see the fans," Rocket Punch Yeonhee said.

"I've been practicing a lot for our new album. I tried to communicate with my fans constantly. Also, I had a precious time to strengthen our teamwork," YunKyoung said about their recent comeback after eight months.
Rocket Punch member Suyun said, "I've been doing so well. I had fun doing 'Black Rose' activities, but I lacked 2% because there were no fans. I prepared this album with excitement and nervousness after hearing the news of the face-to-face showcase. We prepared this album with great effort."

Dahyun, the youngest who became a high school student, said, "Middle school and high school are definitely different. I feel like I've become an adult, and I think I can do more. But my school life was fun, so I think I will fun even if I had to wake up at dawn every day," she said, while giving a warm smile.
The group Rocket Punch showed the point choreography of the title song 'Ring Ring' at a showcase marking the release of Rocket Punch's first single album 'Ring Ring' at Blue Square Mastercard Hall in Hannam-dong, Yongsan-gu, Seoul on May 17th.
The title track 'Ring Ring' is a mix of synthwave and 80s synth pop styles. It announces a new challenge for Rocket Punch, which expresses its confident love in the plump and witty lyrics of "I will go to the person who rings my phone first."
Read More About: Rocket Punch Comeback Excites Music Fans
KPOP
,
Kpop 2021
,
Kpop artist
,
Kpop artists
,
Kpop idols
,
Kpop news
,
Kpop trend
,
Kpop trending
,
KPop trending news
,
Kpop trending now
,
kpop trending update
,
KPOP2021
,
Kpopall
,
KPOPIDA
,
KPOPNEWS
,
rocket punch
,
rocket punch comeback
,
rocket punch kpop
,
rocket punch new single
,
rocket punch_ring ring
,
Trending
,
trending 2021
,
trending kpop
,
Trending Kpop news
,
trending kpop update
,
trending news
,
trending update kpop