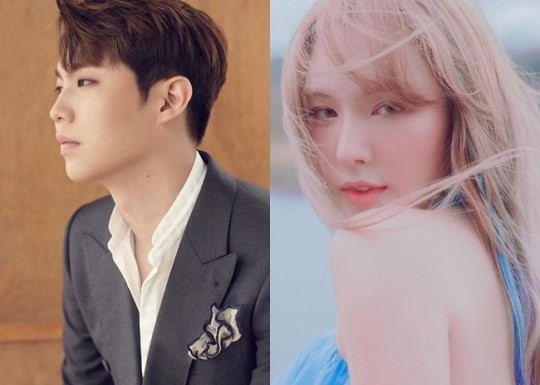 Forte Di Quattro member Taejin Son will collaborate with Wendy of the Kpop group Red Velvet.
On October 21, Mystic Story announced, "Taejin Son will release a new digital single in collaboration with Red Velvet's Wendy on October 29."
Taejin Son directly announced the news at the online birthday party held live on October 20. In fact, Taejin is active in the crossover group Forte di Quattro. So, he will be releasing a solo soundtrack through this digital single after a long time.
Singer Taejin Son, suitable for various genres, with his warm and comfortable tone, joined hands with Red Velvet member Wendy this time. The synergy of the two who meet for the first time is already raising high expectations.
Taejin Son is a member of Forte di Quattro, the first winning team of JTBC's 'Phantom Singer' in 2016. He is a vocalist and pop opera singer who released his first solo single 'Close Your Eyes' in 2018. In addition to music activities and solo concerts, he is actively meeting with the public through 'Kiss,' 'Immortal Song,' and 'Open Concert.'
This year, he played a significant role in JTBC's 'Phantom Singer All-Star Match.'
Currently, singer Taejin Son is the DJ of the TBS eFM weekend radio program 'Sweet Rendezvous.'
He made a touching performance with Mystic Story's performance project 'LISTEN STAGE' on October 13.
Meanwhile, Kpop group Red Velvet Wendy proved her outstanding skills as a solo singer by releasing her first mini-album, 'Like Water,' in April. Recently, Wendy has been active in various fields. It includes radio DJ activities and joining the Saturday Night Live (SNL) Korea crew.
So, Taejin Son and Wendy's collaboration will surely captivate both classical and popular music fans. They will release the single on various online music sites at 6 pm on October 29.
Read More About: Billie, Mystic Story's First Girl Group, Releases New Performance Video
best Kpop girl group
,
best kpop news site
,
best kpopstar
,
breaking news kpop
,
daily kpop news
,
Fandom
,
Hip-hop Idol JIN
,
IRENE
,
Jin
,
JIN news
,
Jinwoo Kim
,
Joy
,
Korean celeb news
,
Korean singer
,
Korean singer songwriter
,
KPOP
,
Kpop album
,
Kpop beauty routine
,
Kpop boy group
,
kpop celebrity news
,
Kpop chart and news
,
Kpop colllaboration
,
KPOP comeback
,
Kpop current news
,
kpop daily news
,
Kpop fashion
,
Kpop girls group
,
Kpop group Red Velvet
,
kpop group winner
,
kpop idol JIN
,
Kpop idols
,
Kpop issues
,
Kpop latest news
,
Kpop music chart
,
Kpop news
,
Kpop news articles
,
Kpop news sites
,
kpop news update
,
Kpop recent news
,
kpop red velvet
,
Kpop skin care routine
,
Kpop skincare routine
,
KPop trending news
,
KPOPNEWS
,
minho song
,
POSE
,
Queendom
,
Queens Mystic General Store
,
red velvet
,
Red Velvet members
,
red velvet news
,
Seunghoon Lee
,
Seungyoon Kang
,
Singer JIN
,
South Korean singer songwriter
,
the best kpop girl group
,
the best kpop girl group of 2021
,
the best kpop group of 2021
,
the top kpop group
,
top kpop boy group
,
top kpop girl group
,
WINNER
,
WINNER members