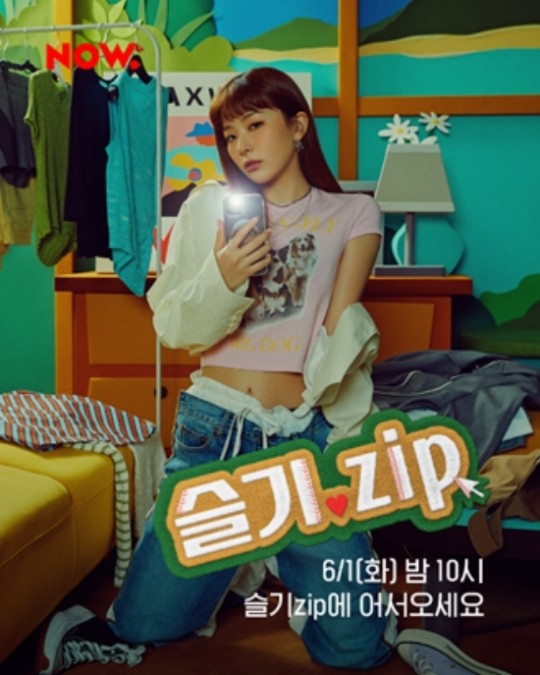 Red Velvet's Seulgi hosts the Naver NOW's 'Seulgi.zip,' which aired live at 10 pm on June 1st.
Naver NOW. 'Seulgi.zip' is the first live show by Red Velvet's Seulgi as a solo host since her debut. It is a broadcast with the concept of inviting guests and fans to her house to talk and play together.
"I took vitamins so I wouldn't be nervous. But, I'm more nervous than I thought. I'll show you my various and honest self as if I'm releasing a compressed file," Seulgi said.
Red Velvet Seulgi continued to explain her OOTD (Outfit Of The Day) and revealed her styling know-how. She said, "I thought a lot about how to wear it because the first meeting is important. But today's concept is the first look for work. I gave them points with bracelets," she introduced her OOTD.
In addition, she said, "I pay attention to giving points, such as wearing comfortable clothes and slightly unique accessories or paying attention to the color of socks. I prefer a simple look that can be ordinary but does not look ordinary."
In the first broadcast, Red Velvet Seulgi's agency junior group AESPA appeared as the first guest. She said, "Physical strength is the most important thing, so eat a lot of delicious food."
"You have to take care of it," Seulgi said, revealing her extraordinary love for the junior group. Then AESPA also replied, "It's an honor to be able to broadcast with my favorite senior."
In the following talk, they had time to share stories that fans were curious about. It includes AESPA's OOTD, life in the dorm, album preparation, behind-the-scenes photoshoots, and favorite playlists. Seulgi is comfortable with covering AESPA's 'Next Level' dance naturally.
Red Velvet Seulgi showed her side as a 'progress genius' by leading the story of the AESPA members. Unlike the charismatic stage, AESPA also showed a baby-like twist, creating a warm scene.
In addition, Seulgi and AESPA had time to communicate with their fans by making bracelets for their supporters. Particularly, the sweet comments of the members of AESPA engulfed the fans that cause laughter.
In addition, Seulgi raised fans' expectations by announcing Chaeyeon Lee's appearance, a former member of IZ*ONE, and her best friend. Chaeyeon Lee will appear in the following Thursday broadcast.
'Seulgi.zip' hosted by Red Velvet Seulgi airs on Naver NOW. every Tuesday and Thursday at 10 PM.
Naver 'NOW.' is a service that allows you to enjoy a live show 24 hours a day on the mobile Naver app home screen.
Read More About: Youngwoong Lim YouTube Channel Surpassed 860 Million Views
KPOP
,
Kpop artist
,
Kpop artists
,
Kpop idols
,
Kpop news
,
Kpop trend
,
Kpop trending
,
KPop trending news
,
Kpop trending now
,
kpop trending update
,
KPOP_Red Velvet
,
KPOP2021
,
KPOPIDA
,
KPOPNEWS
,
red velvet news
,
RED VELVET SEULGI
,
red velvet-seulgi
,
RED_VELVET
,
Red_Velvet_Seulgi
,
Trending
,
trending 2021
,
trending kpop
,
Trending Kpop news
,
trending kpop update
,
trending news
,
trending update kpop