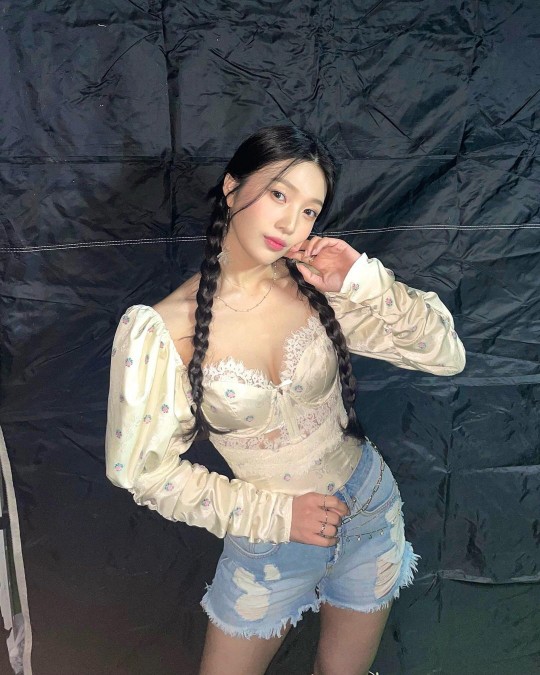 The Kpop group Red Velvet member Joy showed off her fresh and sexy charm at the same time.
On December 26, Joy posted a picture with the caption "HELLO" on her Instagram.
In the photo, Joy is taking pictures behind the scenes before going on the year-end stage. She is proud of her lovely visual by braiding her hair in two long braids. Then, she showed off her fresh and innocent beauty at the same time, such as a deep gaze towards the camera and a pose full of cuteness.
Particularly, Joy surprised fans with her slender body and golden proportions by wearing shorts with a long sleeve top, exposing her collarbone line.
Meanwhile, Kpop group Red Velvet member Joy has been in a public relationship with singer Crush since August. She is currently starring in the drama 'The One and Only.'
Read More About: TWICE Excites Japanese Fans By Announcing Two Performances At Tokyo Dome In April 2022
best Kpop girl group
,
best kpop news site
,
best kpopstar
,
breaking news kpop
,
crush
,
crush news
,
Crush updates
,
daily kpop news
,
Fandom
,
hip-hop singer Crush
,
Hyoseob Shin
,
IRENE
,
Joy
,
Korean celeb news
,
Korean singer
,
Korean singer songwriter
,
KPOP
,
Kpop album
,
Kpop beauty routine
,
Kpop boy group
,
kpop celebrity news
,
Kpop chart and news
,
Kpop colllaboration
,
KPOP comeback
,
Kpop current news
,
kpop daily news
,
Kpop fashion
,
Kpop girls group
,
Kpop group Red Velvet
,
Kpop idols
,
Kpop issues
,
Kpop latest news
,
Kpop music chart
,
Kpop news
,
Kpop news articles
,
Kpop news sites
,
kpop news update
,
Kpop recent news
,
kpop red velvet
,
kpop singer crush
,
Kpop skin care routine
,
Kpop skincare routine
,
KPop trending news
,
KPOPNEWS
,
POSE
,
Queendom
,
Queens Mystic General Store
,
red velvet
,
Red Velvet members
,
red velvet news
,
singer crush
,
Sometimes
,
South Korean singer songwriter
,
the best kpop girl group
,
the best kpop girl group of 2021
,
the best kpop group of 2021
,
the top kpop group
,
top kpop boy group
,
top kpop girl group