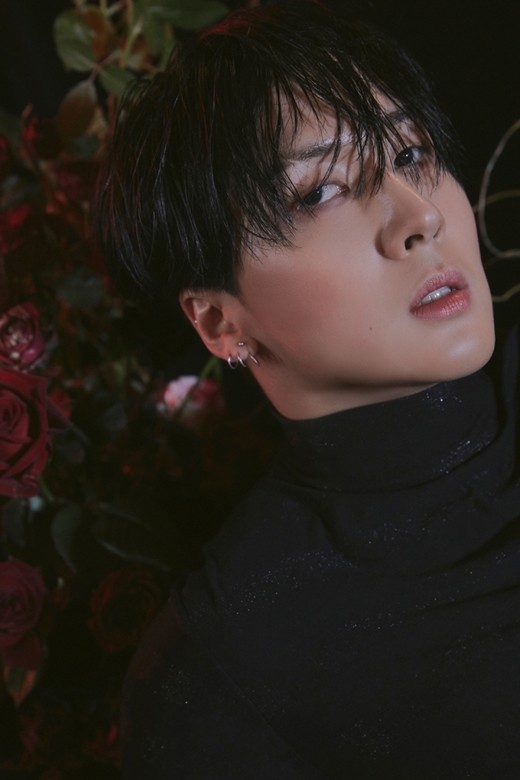 Kpop singer RAVI is making a comeback with a 'well-made album' filled with famous songs. RAVI will release his second full-length album, 'LOVE & FIGHT,' through various music sites at 6 pm on February 8.
'Love & Fight' is RAVI's first full-length album after his first full-length album 'EL DORADO,' released in 2020.
RAVI will confirm his outstanding musical ability and sense by actively participating in the album production. It includes participating in writing lyrics, composing, and producing.
# RAVI thinks of 'the form of love.'
'WINNER' tells the story of the desire to win, which disappears only when standing in front of a loved one. 
The title song 'WINNER' is a rock-based song with an appealing guitar sound that seems to explode. Mainly, ASH ISLAND, who has a unique presence in the hip-hop scene with his unique voice, participated in the feature and added fun to listen to.
In fact, 'Love & Fight' includes the title song 'WINNER,' 'GUNS,' 'VIRUS,' 'LOVE HATE FIGHT,' 'WHAT'S MY PROBLEM,' 'LET ME DOWN SLOWLY,' 'DROWNING IN THE RAIN,' '1,2,3', 'CANNONBALL,' 'ANI,' and 'WARRIOR.'
# Popular featured artists, from JUSTHIS to (G)I-DLE Soyeon
This album boasts splendid featured artists full of personality. It includes Ash Island, JUSTHIS, nafla, Cold Bay, Xydo, Paul Blanco, and (G)I-DLE Soyeon. Notably, in the music video for 'WINNER,' Hyewon Kang, made a surprise appearance, adding to the surprise. 
Notably, hip-hop label GROOVL1N artists, Nafla, Cold Bay, and Xydo participated in the featuring, demonstrating extraordinary loyalty. As the luxurious collaboration gathers strength for RAVI, expectations are high for the musical synergy they will show.
# 'All Rounder' Representative Artist
In fact, RAVI is the representative 'all-rounder' artist in the music industry. He has firmly established himself as a 'hip-hop artist' who leads the trend by participating in the overall album production, including writing lyrics, composing, and producing. So, he is presenting fresh music that melts his own color and identity.
Also, he is showing a unique presence as a CEO. Last year, he founded his own label, The L1VE, and is expanding its territory further by recruiting Ailee and Wheein. He also actively participated in the work of the recently released albums of Ailee and Wheein, proving his outstanding musical ability once again.
RAVI, active in various fields such as singing, producing, and managing, will prove his true worth once again through this album, where you can feel the expanded musical spectrum.
Kpop singer RAVI's second full-length album, 'Love & Fight,' will be out on various music sites at 6 pm on February 8.
Read More About: BTS Jungkook Topped Melon's Popular Search Terms
best Kpop girl group
,
best kpop news site
,
best kpopstar
,
breaking news kpop
,
daily kpop news
,
Fandom
,
Jinwoo Kim
,
Korean celeb news
,
Korean singer
,
Korean singer songwriter
,
KPOP
,
Kpop album
,
Kpop beauty routine
,
Kpop boy group
,
kpop celebrity news
,
Kpop chart and news
,
Kpop colllaboration
,
KPOP comeback
,
Kpop current news
,
kpop daily news
,
Kpop fashion
,
Kpop girls group
,
kpop group winner
,
Kpop idols
,
Kpop issues
,
Kpop latest news
,
Kpop music chart
,
Kpop news
,
Kpop news articles
,
Kpop news sites
,
kpop news update
,
Kpop recent news
,
Kpop skin care routine
,
Kpop skincare routine
,
KPop trending news
,
KPOPNEWS
,
minho song
,
Seunghoon Lee
,
Seungyoon Kang
,
South Korean singer songwriter
,
the best kpop girl group
,
the best kpop girl group of 2021
,
the best kpop group of 2021
,
the top kpop group
,
top kpop boy group
,
top kpop girl group
,
WINNER
,
WINNER members