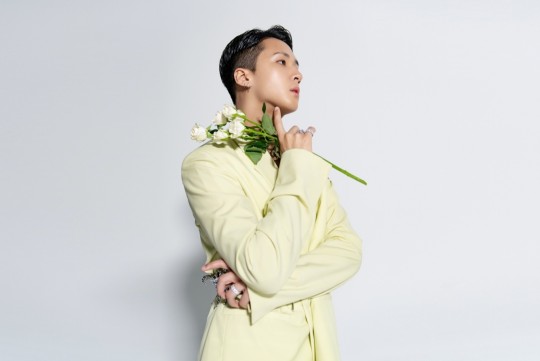 Ravi's comeback is just one day away.
Ravi will release his fourth mini-album 'ROSES' through various music sites at 6 pm on June 3rd.
Fans can see Ravi's more colorful musical growth in his new album 'ROSES.'
He will release it about four months after the single 'Bum' released in February.
Also, Ravi participated in writing and composing all the songs on this album. It proves his talent as a musician. Particularly, Ravi expressed the emotion of 'love' from various perspectives through sensuous lyrics and sound. He created a high-quality album with 'CARDIGAN' and 'FLOWER GARDEN' as double title songs.
'CARDIGAN,' one of the double title songs, is a song full of energy. It harmonizes with a refreshing guitar sound and a dazzling bass melody. Particularly, Ravi's melodious rap, Wonstein's vocals, and the cool drop part in the rising chorus are attractive.
'FLOWER GARDEN' is another title song. It conveys the lyrics comparing the feeling of spring. It delivers that the eyes of the person you love are like 'flowers' and 'flower garden.' 
He lovably portrayed the delicate but noble charm and fragrance of the flowers.
In addition, there is a total of 7 tracks in this album. Aside from the two title songs, it contains the songs, 'CHEE$E', 'RED VELVET,' 'ROSES,' 'Freezing Point,' and 'I Don't Deny.'
It expresses the narrative of 'love' from Ravi's perspective in a solid yet organic way.
Music fans expect this album to be super-luxurious as it features a group that will show synergy with Ravi. Wonstein participated in the title song, CARDIGAN. He rose to the top of the charts through 'Show Me the Money 9.'
The two worked together for the first time. In addition, talented musicians such as JAMIE, Byeongwoong Ahn, and BLNK added their voices to the new album 'ROSES.'
Particularly, Xydo started featuring the song Freezing Point. He is an artist from the hip-hop label GROOVL1N, headed by Ravi. In fact, the song 'Freezing Point' is an extension of 'Melting Point' of 'R.OOK BOOK' in 2019. It enhances the fun of listening to the 'Boiling Point Series.'
In the past, Ravi has appeared in MBC's 'Radio Star,' 'Don't Be Jealous,' tvN's 'Amazing Saturday-Doremi Market,' and TVING's original 'Idol Dictation Contest.'
He showed off his extraordinary wit and an outstanding sense of entertainment.
Particularly, in KBS 2TV's '2 Days and 1 Night,' a fixed program, fans loved Ravi as the 'entertainment blue chip' by establishing solid characters such as 'Dorabi,' which also recognizes older brothers such as Junghoon Yeon, Seyoon Moon, and Jongmin Kim.
Ravi established himself as an 'entertainment trend' by showing dazzling performances in variety shows. He will finally make a comeback to his main job on June 3rd. Fans expect Ravi to achieve another level of musical growth. It is through 'ROSES' and imprints his solid presence in the music industry.
Ravi will be releasing his fourth mini-album 'ROSES' on various music sites at 6 pm on June 3rd.
Read More About: MONSTA X Returns With A Splendid Comeback Show!
2021 kpop news
,
2021 kpop updates
,
KPOP
,
Kpop 2021
,
Kpop artist
,
Kpop artists
,
Kpop idols
,
Kpop news
,
kpop Ravi
,
Kpop trend
,
Kpop trending
,
KPop trending news
,
Kpop trending now
,
kpop trending update
,
KPOP2021
,
Kpopall
,
KPOPIDA
,
KPOPNEWS
,
RAVI
,
RAVI KPOP
,
RAVI Kpop news
,
ravi new album
,
Ravi Roses
,
ROSES by RAVI
,
Trending
,
trending 2021
,
trending kpop
,
Trending Kpop news
,
trending kpop update
,
trending news
,
trending update kpop