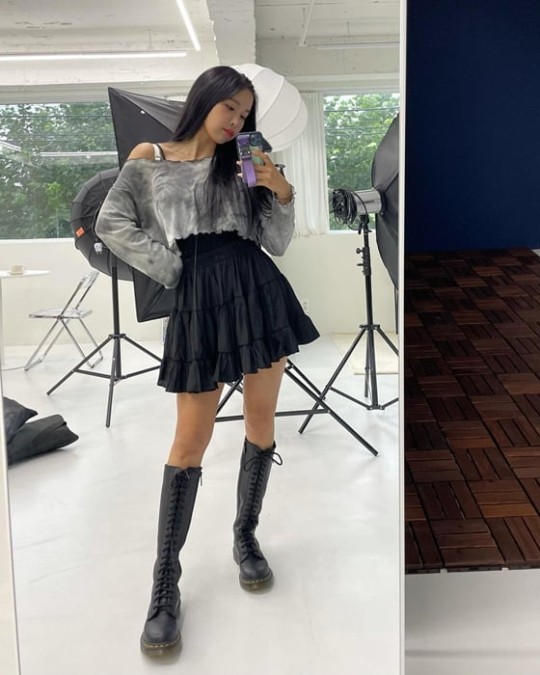 Hyunyoung, a member of the Kpop group Rainbow, caught the attention of the public with her fresh charm.
.
On the afternoon of September 16th, Hyunyoung posted a photo with the '♥' emoji on her Instagram.

In the photo, Hyunyoung showed off a unique sense of fashion by matching an off-shoulder top with a short skirt and boots.

Particularly, she produced a pose that made her legs look longer and showed it off, attracting attention. Her refreshing beauty as a kpop girl idol is also impressive.

Hyunyoung made her debut with the Kpop group Rainbow in 2009. Since then, she has expanded her range of activities by appearring in dramas and movies. Currently, she is operating the YouTube channel 'Cho Hyunyoung TV.'
Through this, she filmed 'We Got Married' with his old friend DinDin.


Read More About: Lee Hi Shared How She Wanted To Collaborate With Mirae Yoon
2021 kpop news
,
2021 kpop updates
,
best 5 autumn singers
,
best Kpop girl group
,
best kpop news site
,
best Kpop site
,
best kpopstar
,
KPOP
,
Kpop 2021
,
Kpop artist
,
Kpop artists
,
kpop group rainbow
,
Kpop idols
,
Kpop latest news
,
kpop latest updates
,
Kpop news
,
Kpop recent news
,
Kpop trend
,
Kpop trending
,
KPop trending news
,
Kpop trending now
,
kpop trending update
,
KPOP2021
,
Kpopall
,
KPOPIDA
,
KPOPNEWS
,
latest kpop news
,
latest kpop updates
,
rainbow
,
recent kpop news
,
the best kpop girl group
,
the best kpop girl group of 2021
,
the best kpop group of 2021
,
Trending
,
trending 2021
,
trending kpop
,
Trending Kpop news
,
trending kpop update
,
trending news
,
trending update kpop