Rain mentions married life on 'U Quiz'
Rain, mentioned his marriage experience to actress Kim Tae-Hee.
TVN's 'U Quiz on the Block', which aired on March 3rd, features an episode about 'People who are not good at times', and Rain appeared as the show's guest.
Jae-Seok Yoo introduced "singers calling for a change of career, and Rain has gone far ahead of the times," he asked, "How are you doing". Rain said, "I'm have a very busy schedule these days. A new album came out. I'm also doing individual activities. You might think that I am always very free, but I was with Jin-young Park, who is very serious and busy, good thing that the response has been good."
Next, Rain mentioned his new song 'WHY DON'T WE', saying, "Let's change it to me" which is the song's other title. The first title went so well, and we sang a duet song with Mr. Chungha today." As soon as the song flowed, Mr. Chungha shown the choreography for the new song.
Rain picked 'Kang' and 'Sunglasses Dance' as things that were ahead of the time. In response, Jae-Seok Yoo said, "There was such a thing. Isn't there something we shouldn't do in the rain? Why are there so many things that we avoid to do in the first place?"
Se-ho Jo said, "I'm living on my own, and there are times when the emptiness comes. When I work and go home, I ask what kind of paintings will unfold." Rain said, "I have to pick them up one by one as I enter. A toy the kids used to play with. I like that." "Enjoy now!" Jae-Seok Yoo said, then he added "Why don't you ask her to have fun after getting married?"
In response, Rain said, "I am asking her to enjoy the serenity. It is also good to love and marry. How about having a long honeymoon? My honeymoon was short. The first was when we had our first baby."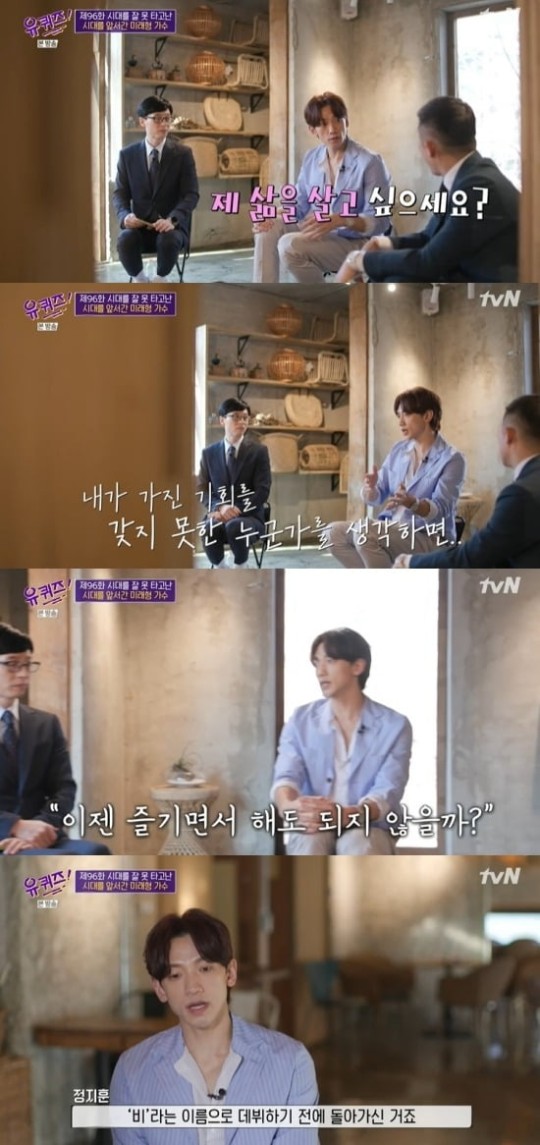 When asked, "How about living like Rain?" Then Rain said, "Do you want to live my life? Now I am enjoying my job," he confessed.
As for the reason for living fiercely, "I think I should have done that. I want to get more applause. When I was in my young heart, it seems that I shouldn't have rested for even a moment. Something inside of me seemed to feel guilty. I thought it would be an unfair world if I couldn't succeed compared to someone who didn't have this opportunity." Rain stated.
In an interview with the production crew, Rain said, "If I can go back to the old days, I want to go back to elementary school. I want to listen to my mom. She died before making my debut under the name 'Rain'. I'm sorry I couldn't give you a meal and a flower, back then."
When asked, "If you have that time right now, what will you do?" Rain revealed his feelings, saying, "I don't want to do anything, I just want my mom to hug me and stay all day long. I don't want to ask anything. Just being held in my mother's arms is the best thing I really want to do."
Read More About:
Rain Appeared On 'Weekly Idol' After 4 Years With Ciipher
Mamamoo Moonbyul Gave Meaningful Advice To Purple Kiss