On Saturday, July 10th, Yoon Story Entertainment held the 'Thelma and Louise' costume play event. It has the theme of time travel to the past. Originally, they plan to host an open event, but due to the spread of COVID-19, they decided to do it to a showcase-type invitation seat.
YeoWool, the leader of the 5-member girl group 'Purplebeck' under Majesty Entertainment, attended the event. Besides Purplebeck YeoWool, Sema vocalist Chuljoon Jang, painter Kyunghwa Choi, Moonsoo Choi of Monster Republic Entertainment, attended the event.
This event was under the theme of fashion, hair, and makeup. They will recall time travel to the past, nostalgic stars, movies, and dramas. It is a participatory open event such as going on a trip away from busy daily life while enjoying costume play as the main character. Returning to reality, you can experience beauty commerce where you can enjoy makeup.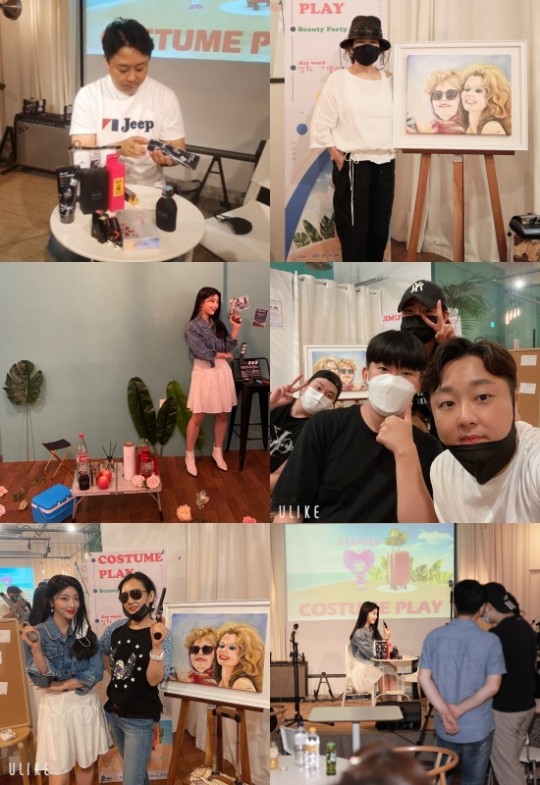 Currently, they adjusted the offline opening time due to the 4th wave of COVID-19. Also, they plan to open the event online.
The movie 'Thelma and Louise' appears in time travel to the past. Thelma and Louise, a scene from the movie, depicts the main characters, Thelma and Louise, going on a trip, by painter Kyunghwa Choi, bringing memories to the trip to the past.
Painter Kyunghwa Choi made her debut in 2013 and received the Encouragement Award from the Korean Women Writers Association. She won the grand prize at the 2018 Korea Comprehensive Art Exhibition and recently participated in the International Art Fair held at COEX in June.
In the teaser video announcing the time travel of costume play, a domestic character named Chamiko, which is copyrighted by Yoon Story Entertainment, appears. They make Heart Rabbit Girls' 'Round and Round' into a 3D animation and as the background music.
In fact, Chulwoo Lee, an animation director, directed the first 3D music video in Korea, which is the Heart Rabbit Girls' 'Ang.'
Yoon Story Entertainment's CEO Jiyoon Yeo planned and produced the event. In addition, Jiwook Park, Inho Park, Hyewon Yoon, and Taesoo Lee participated as time guides for the time travel team.
'MD638,' 'Heelaa,' '7Beauty,' 'Madoromi,' and 'Giovanni & Verdot,' sponsored the products for experiencing beauty commerce. The event took place at 'Salon Moonbow' in Hongdae.  
Read More About: WJSN Remakes Girls' Generation's 'Baby Baby'
'Thelma and Louise' costume play event
,
2021 kpop
,
2021 kpop girl idols
,
2021 kpop news
,
2021 kpop news updates
,
2021 kpop updates
,
2021 news kpop
,
2021 updates on kpop
,
girl group Purplebeck
,
Heart Rabbit Girls
,
KPOP
,
Kpop 2021
,
Kpop artist
,
Kpop artists
,
Kpop idols
,
Kpop news
,
kpop Purplebeck
,
Kpop trend
,
Kpop trending
,
KPop trending news
,
Kpop trending now
,
kpop trending update
,
KPOP YEOWOOL
,
KPOP2021
,
Kpopall
,
KPOPIDA
,
KPOPNEWS
,
purplebeck
,
Purplebeck kpop
,
Purplebeck NEWS
,
Purplebeck yEOWOOL
,
Thelma and Louise
,
Trending
,
trending 2021
,
trending kpop
,
Trending Kpop news
,
trending kpop update
,
trending news
,
trending update kpop