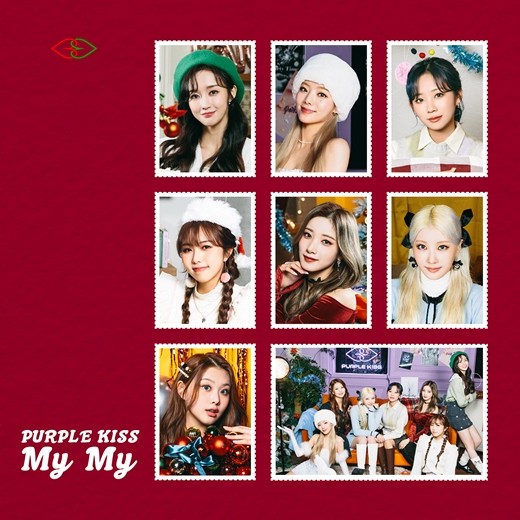 The Kpop group Purple Kiss will release a winter song for the first time since their debut.
At midnight on December 11, Purple Kiss announced the release of their winter song by unexpectedly releasing the web jacket image of the digital single 'My My' through their official social media.
In the web jacket image with a red background, the seven members appeared like they were in postcards. In the midst of the Christmas sensibility, Purple Kiss caught the eyes of the fans with a more lovely and mature atmosphere.
Purple Kiss will release their first winter song, 'My My,' on December 18. This is the first time they will release a season song. As they will release the song a week before Christmas, they plan to present a sweet year-end and New Year holiday to listeners with a carol of warm sensibility.
Purple Kiss made their full-fledged debut in the music industry in March of this year. They have earned the nickname 'balance idol' as a complete idol with excellent vocal and performance skills. Also, they have the ability to write lyrics, compose, and create choreography.
Particularly, they perfectly master the intense rock genre, groovy R&B, and humorous funk genre, establishing the group's unique identity. Once again, they are proving their limitless musical spectrum through this winter song, 'My My.'
Kpop group Purple Kiss will release their first winter song, 'My My,' on various music sites at 6 pm on December 18.
Read More About: TXT Stuns The Public With Their Unrealistic Looks At The '2021 MAMA' Red Carpet
best Kpop girl group
,
best kpop news site
,
best kpopstar
,
breaking news kpop
,
daily kpop news
,
Fandom
,
girl group Purple Kiss
,
Korean celeb news
,
Korean singer
,
Korean singer songwriter
,
KPOP
,
Kpop album
,
Kpop beauty routine
,
Kpop boy group
,
kpop celebrity news
,
Kpop chart and news
,
Kpop colllaboration
,
KPOP comeback
,
Kpop current news
,
kpop daily news
,
Kpop fashion
,
Kpop girls group
,
kpop group purple kiss
,
Kpop idols
,
Kpop issues
,
Kpop latest news
,
Kpop music chart
,
Kpop news
,
Kpop news articles
,
Kpop news sites
,
kpop news update
,
Kpop recent news
,
Kpop skin care routine
,
Kpop skincare routine
,
KPop trending news
,
KPOPNEWS
,
Purple Kiss
,
Purple Kiss comeback
,
Purple Kiss members
,
rookie Purple Kiss
,
South Korean singer songwriter
,
the best kpop girl group
,
the best kpop girl group of 2021
,
the best kpop group of 2021
,
the top kpop group
,
top kpop boy group
,
top kpop girl group