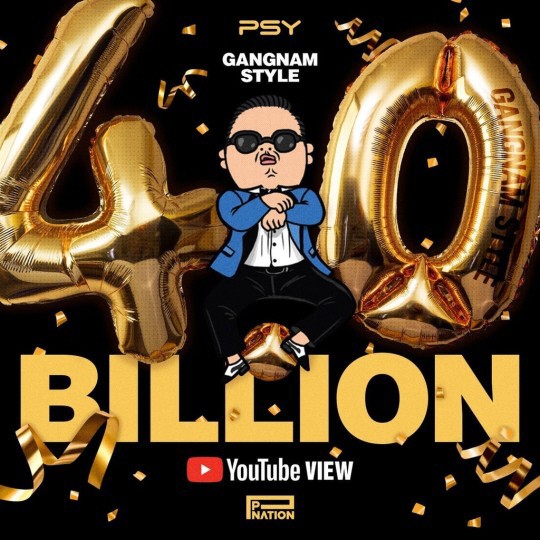 Singer Psy's 'Gangnam Style' music video was the first Korean singer to record 4 billion views on YouTube.
According to Pination, an agency led by Psy, the 'Gangnam Style' music video exceeded 4 billion YouTube views on the 7th March.
It was only 8 years and 7 months since it was released in July 2012. This is the first record of a single song by a Korean singer. Psy posted an image commemorating 4 billion views of 'Gangnam Style' on his SNS.
Psy expressed his gratitude by tagging YG Entertainment, which was his agency at the time of 'Gangnam Style' activities. He also thanked his manager, Scooter Brown. Scooter supported his local activities in the US, US Republic Records, and Pinnation accounts.
'Gangnam Style' is a song that became a hit around the world in 2012. This put Psy in the ranks of world stars. At that time, K-pop singers started a wave of hitting second place on the American Billboard main single chart 'Hot 100', which was recognized as a 'devil's barrier'.
The music video was the driving force behind the success of the song. This music video exceeded 1 billion views in 161 days after its release. 'Gangnam Style' was the first to exceed 1 billion views of a single video since the founding of YouTube.
In May 2014, it exceeded 2 billion views for the first time in YouTube history. In November 2017, it exceeded 3 billion views. Then, the number of views has been steadily increasing, reaching 4 billion views in 3 years and 3 months.
Psy, celebrated his 20th anniversary in January this year, and leads the agency Pination. This also includes Hyuna, Dunn, Crush, Jesse, and Hayes. Pination has been working hard to develop junior singers.
gangnam style
,
gangnam style 2
,
gangnam style dance
,
gangnam style English
,
gangnam style lyrics
,
gangnam style lyrics English
,
gangnam style rapper
,
gangnam style singer
,
KPOP
,
Kpop boy group
,
Kpop boy idols
,
Kpop hottest singer
,
Kpop idols
,
Kpop issues
,
Kpop news
,
kpop psy gentleman
,
Kpop trending
,
Kpop websites
,
KPOP2021
,
KPOPIDA
,
KPOPNEWS
,
Kpopstars
,
psi
,
Psy
,
psy gangnam style
,
psy kpop
,
psy kpop gangnam style
,
Trending Kpop news