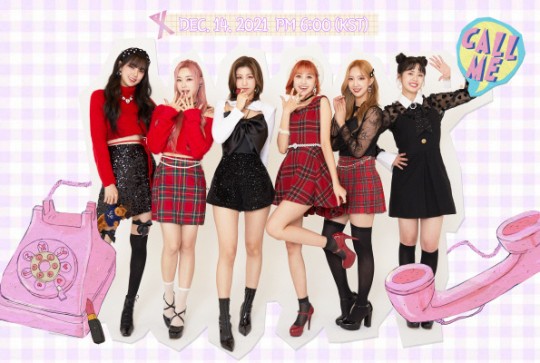 Kpop group PIXY will release their new song 'Call Me' today, December 14.
For the first time since its debut, the girl group PIXY will transform into a fresh and lively fairy. It's an unexpected charm of PIXY, also known as 'Dark Idol.'
PIXY (Ella, Lola, Satbyeol, Dia, Sua, and Dajeong) will release their new song 'Call Me' at 6 pm on December 14. 'Call Me' is an event song, released only in the Japanese version at this year's online fan meeting. PIXY will release it as an official song at the request of WINXY (fandom).
'Call Me' beautifully melts the melody of the warm yet bubbly hip-hop dance genre and the members' voices. It is a song that expresses the desire to be with you anytime, anywhere, this unusually lonely and cold winter. Also, it features a refreshing and lively charm that PIXY has never shown before.
Kpop group PIXY made its debut in the music industry with the debut album 'WINGS' in February. They impressed the public with the concept of good and evil, earning numerous modifiers such as 'Dark Idol,' 'Concept Idol,' and 'Stage Master.'
They plan to decorate the end of the year by conveying its unexpected charm with its new song, 'Call Me.'
Read More About: Purple Kiss To Release Its First Winter Song 'My My' On December 18
2021 kpop news
,
2021 kpop news updates
,
2021 news kpop
,
best kpop news site
,
breaking news kpop
,
daily kpop news
,
Korean celeb news
,
KPOP
,
Kpop 2021
,
Kpop artist
,
Kpop artists
,
kpop celebrity news
,
Kpop chart and news
,
kpop daily news
,
Kpop idols
,
Kpop latest news
,
Kpop news
,
Kpop news articles
,
Kpop news sites
,
kpop news update
,
kpop pixy
,
kpop pixy 2021
,
kpop pixy news
,
Kpop recent news
,
Kpop trend
,
Kpop trending
,
KPop trending news
,
Kpop trending now
,
KPOP2021
,
KPOPIDA
,
KPOPNEWS
,
Pixie
,
pixy
,
PIXY kpop
,
pixy mini album
,
pixy news
,
pixy_bravery
,
trending kpop
,
Trending Kpop news
,
trending kpop update
,
trending news
,
trending update kpop