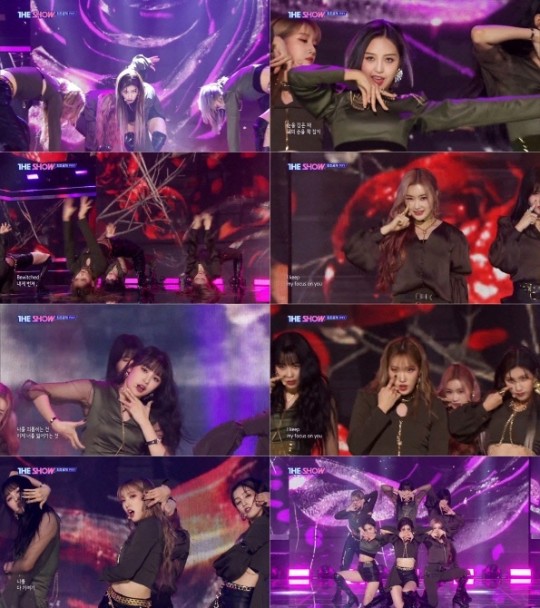 The 4th generation representative Kpop group PIXY is sprinting towards the global Kpop market. They have started their follow-up song activities in earnest. On SBS MTV's 'The Show,' which aired on November 2, PIXY (Ella, Lola, Satbyeol, Dia, Sua, and Dajeong) performed the follow-up song 'Bewitched' for the first time. So, it attracts the attention of Kpop fans.
On this day, PIXY appeared on the stage with an attractive styling that combines outfits that feel both girl crush and sexy with colorful accessories. As the modifier of 'stage master,' the members showed off an intense choreography with no errors. They gave a high level of immersion with their captivating eyes and intense facial expressions.
Notably, the point choreography and melody expressed the appearance of being seduced by a witch. It is enough to leave a strong impression on the public. They gave a fresh shock with high-quality performance. Their clear win-win situation melted their worldview as a unique 'concept idol.'
'Bewitched' is a follow-up song from their second mini-album, 'TEMPTATION.'
It is a modern pop R&B song that can show PIXY's unique tone and trendiness. It is characterized by a process that seems to be doing it, and member Dia participates in guide vocals and directing, showing off her producing skills.
In addition, PIXY appeared on Naver NOW's 'Children of Rumors,' which started at 8 pm on November 2. They showed various behind-the-scenes stories that they hadn't shared before. Also, they showed their side as an all-around idol by fully exuding the charm that fans can not see in their performances.
In addition, through teamwork talk, affectionate item disclosure, and story reading, they presented a live performance of 'Still with me.'
It is a song of gratitude for WINXY that brings not only fun but also touching memories.
Meanwhile, Kpop group PIXY has begun their follow-up song activities in earnest. They will continue steady activities in various fields, including music broadcasts. Also, they will actively engage in activities in the global market, proving their status as the 'global deity' for their unique worldview and outstanding skills.
Read More About: Youngwoong Lim, Top 2 On YouTube Music Views In The Last 12 Months
best Kpop girl group
,
best kpop news site
,
best kpopstar
,
breaking news kpop
,
crush
,
crush news
,
Crush updates
,
daily kpop news
,
Fandom
,
hip-hop singer Crush
,
Hyoseob Shin
,
Korean celeb news
,
Korean singer
,
Korean singer songwriter
,
KPOP
,
Kpop album
,
Kpop beauty routine
,
Kpop boy group
,
kpop celebrity news
,
Kpop chart and news
,
Kpop colllaboration
,
KPOP comeback
,
Kpop current news
,
kpop daily news
,
Kpop fashion
,
Kpop girls group
,
Kpop idols
,
Kpop issues
,
Kpop latest news
,
Kpop music chart
,
Kpop news
,
Kpop news articles
,
Kpop news sites
,
kpop news update
,
Kpop recent news
,
kpop singer crush
,
Kpop skin care routine
,
Kpop skincare routine
,
KPop trending news
,
KPOPNEWS
,
singer crush
,
Sometimes
,
South Korean singer songwriter
,
the best kpop girl group
,
the best kpop girl group of 2021
,
the best kpop group of 2021
,
the top kpop group
,
top kpop boy group
,
top kpop girl group