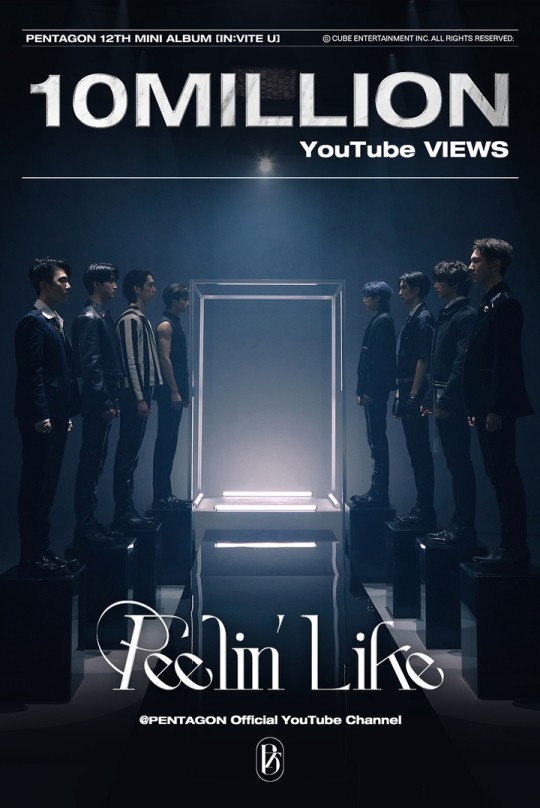 The Kpop group Pentagon's new song 'Feelin Like' shows signs of causing a sensation.
On January 26, Cube Entertainment said, "The number of YouTube views on the music video for the title song 'Feelin' Like' of Pentagon's 12th mini-album 'IN:VITE U,' released at 6 pm on January 24, has surpassed 10 million views."
It happened in 33 hours, less than two days after the album's release.
'Feelin Like' is a song that achieves a harmony of pop and R&B that causes a strong addiction from the intro.
In the music video, Pentagon's bright charm and sophisticated performances captivated fans around the world.
On the other hand, Kpop group Pentagon plans to actively promote with the new song 'Feelin Like.'
Read More About: Blitzers Wraps Up Their First Single 'BOBBIN' Activities!
2021 kpop news updates
,
2022 kpop trending
,
2022 kpop updates
,
2022 latest news
,
best kpop news site
,
breaking news kpop
,
daily kpop news
,
Korean celeb news
,
KPOP
,
kpop 2022
,
KPOP 2022 NEWS
,
Kpop artist
,
Kpop artists
,
kpop celebrity news
,
Kpop chart and news
,
Kpop current news
,
kpop daily news
,
Kpop idols
,
Kpop latest news
,
Kpop news
,
Kpop news articles
,
Kpop news sites
,
kpop news update
,
Kpop recent news
,
Kpop trending
,
KPop trending news
,
Kpop trending now
,
kpop_pentagon
,
KPOPIDA
,
KPOPNEWS
,
Pentagon
,
Pentagon New Album
,
trending kpop
,
Trending Kpop news
,
trending kpop update
,
trending news