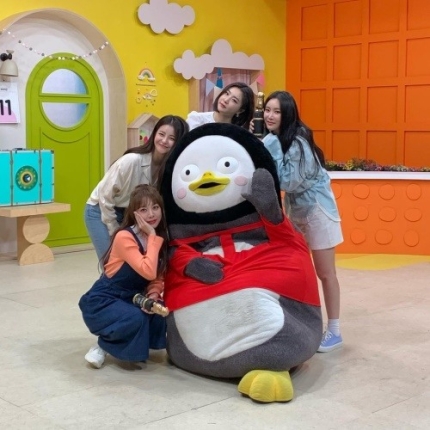 Pengsoo (penguin character) met with Brave Girls, the 'myth of reverse driving'.
On the afternoon of the 11th of March, Pengsoo, a popular creator on EBS, posted a photo with a caption on Instagram. He said, "Rolin, Rollin, Rollin~Pengsoo, and Brave Girls meet?"
In the photo, the penguin character is surrounded by girl members. They took a picture proving the reality of the meet and greet. The penguin character is wearing a costume and showing a cute pose.
The myth of reverse driving trend once again, after meeting the popular penguin character.
Pengsoo has 2 million subscribers on his YouTube channel 'Giant Peng TV'.
Other Post You May Like: Brave Girls Reverse Popularity Made Their Wish Fulfilled